Explore the potential of AI for your business
Set up a structured expert workshop
to evaluate your potential & feasibility.
Integrating smart sensors, IoT systems and Artificial Intelligence enables successful digital innovation. After all, they serve convenience, customer centricity and growth through a digital layer. Verhaert's experts realize your digital products and help you towards digital transformation.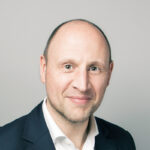 Lieven Claeys
T +32 3 250 19 00
Some of our success stories
From scouting ideas to scaling up your new connected projects and services, Verhaert guides you through the complete innovation journey. To optimize your journey we integrate our unique RICE methodology in all disciplines of our different labs.
Sensor technology scouting
Technology transfer
Digital product strategy
Business applications
360° product review
Explorative hackathon
Digital product design
Proof of concept
Rapid prototyping & mock-ups
Hard & software development
UI/UX
Solution deployment
Industrialization & production
Earth Observation & geospatial
Get inspired on digital innovation