Service formats
Incubation & technology transfer
For corporates, governments and agencies we provide managed services for the creation of new breakthrough businesses.
Managing innovation in a corporate environment is often a difficult balancing act between mid an long term objectives. This is particularly true for the execution of a disruptive innovation program, questioning your value, business model and comfort zones. In those situations you wish your organization to innovate a bit more like a start-up. Here we come in. We help you to create and operate an environment and the processes to facilitate your incubation and acceleration program.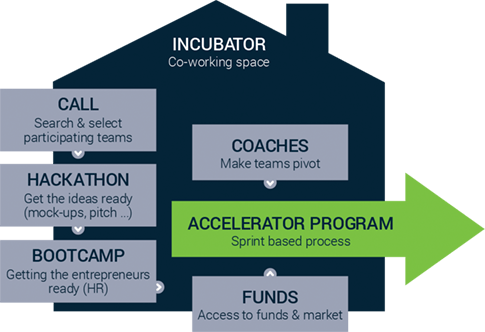 Make corporates think like start-ups.
Give start-ups access to state-of-the-art know-how.
Playbook InnoRocket program
Besides our service innovation centers we have European presence through a network of 16 innovation hubs facilitating local technology transfer, innovation and incubation services.
SEPIA
Innovation requires specialized knowledge. To make this accessible to small enterprises, Masters in Innovation developed the SEPIA*-program.
Empower start-ups with corporate levers
Furthermore we help start-ups and entrepreneurs to professionalize their case and connect to corporations as investor and lead-customers.
Audits, studies, workshops and master classes throughout the innovation process.
Strengthen your team with on-site experts implementing new technologies and best practices.