A whole universe of technologies from the space and fusion industry is within your reach. How to apply these technologies in your next innovation? What are the possibilities for your business needs? Find it out on Thursday 23 January during a network event.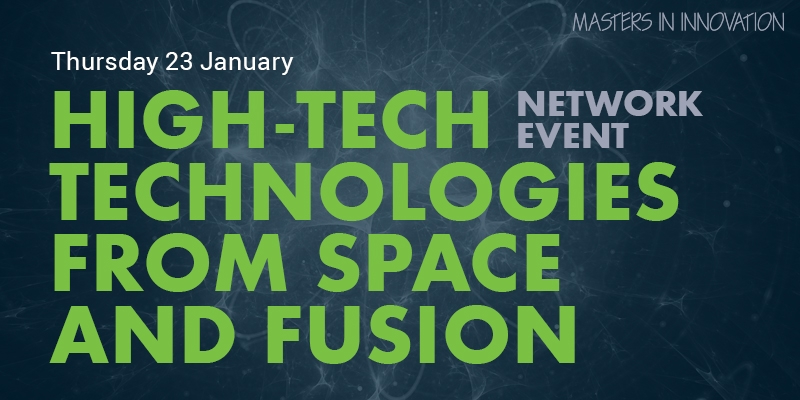 Technology transfer in extreme conditions
Technologies developed for the space and fusion industry perform in extreme conditions. They combine innovative approaches to withstand magnetic fields, high heat, mechanical loading and more. To maximize the efficiency of investments in space and the potential of fusion technologies, Verhaert organizes a network event to promote these technologies for earthly applications. Eager to know more about technology transfer? Visit euro-fusion.org and esa.int.

Synergy between space and fusion technologies
The brokership within EUROfusion's program is a great addition to Verhaert's ESA Space Solutions Belgium activity, facilitating open innovation in high-tech product development. With demonstrator calls and new tools, we promote the use of space and fusion technologies in innovation projects throughout Europe. In need of technology? Verhaert is looking forward to help you with transferring space or fusion technology in the development of breakthrough projects.

Program
13h00 – 15h00

Tech for Extreme

Introduction (5′)

Sustainable future (25′)
Christian Dierick, Lead Expert Energy, Agoria Industry Liaison Officer Iterbelgium

ITER (25′)
Paul Wouters, Project Manager at F4E, ITER Delivery

Space (25′)
Aude De Clerq, Officer Technology Transfer

Science (25′)
Jozef Ongena, Laboratory for Plasma Physics – Koninklijke Militaire School

Q&A Panel(15′)

15h00 – 16h00

Tech for Transfer

Introduction (5′)

Fusion TechXfer Program(10′)
Luisa Leroy, FUTTA II broker and Consultant InnoLab at Verhaert Masters in Innovation

Space TechXFer Program(10′)
Alexander Frimout, Prime ESA broker and Consultant InnoLab at Verhaert Masters in Innovation

Spin-off Company: Business Case (10′)
Jens Verbeeck, CEO at MAGICS Instruments

Study Case: Space & nuclear (10′)
Alexander Nieuwborg, The impact of networking with ESA and SCK-CEN

Q&A Panel (15′)

16h00 – 16h30

Coffee break

16h30 – 18h00

Workshop 'Technology need'
Connect your business need with space or fusion technologies

18h00 – 19h00

Networking

Practical info
When? Thursday 23 January 2019 from 13h till 19h.
Where? CoStation Brussels, Place Sainte-Gudule 5, 1000 Brussels

Partners