ESA and Verhaert are strengthening their collaboration with a new initiative: ESA Space Solutions Belgium. To support the Belgian space ecosystem, they join forces for technology transfer and business incubation.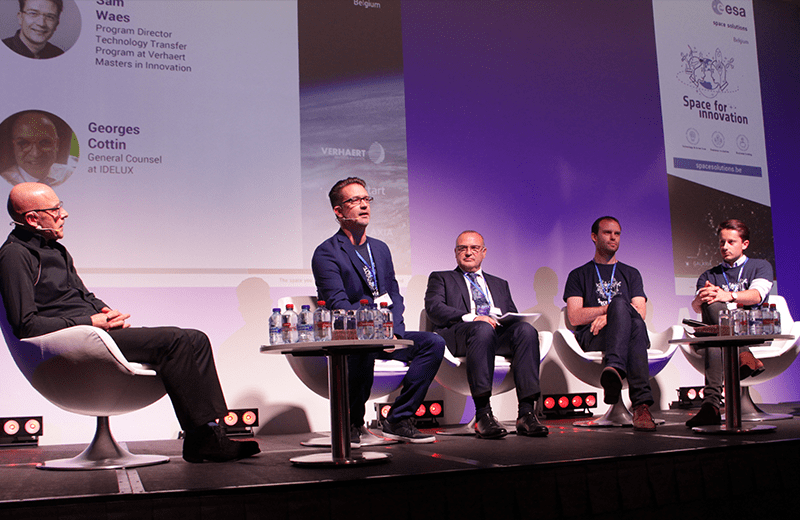 Innovate with space
Verhaert, imec.istart and Galaxia Space Innovation bundle their activities to bring space and other sectors closer together. ESA Space Solutions Belgium makes the bridge between technology transfer and business incubation. In this way, innovations are fed and marketed in an interesting way.
"To be successful in technology transfer and incubation, you need more than just coaching. Product development is an essential element in the process to create successful innovations," says Koen Verhaert, CEO of Verhaert Masters in Innovation. "ESA Space Solutions Belgium offers support to entrepreneurs who have innovative ideas using space technology and/or know-how."
Technology transfer
ESA Space Solutions Belgium gives Belgian entrepreneurs a boost to innovate with space technology. Companies that want to use space technology or know-how receive financial support up to 35.000 euros to set up feasibility studies or demonstration projects. In addition, they also get access to the extensive database of ESA patents and technologies.
The Belgian space policy has always supported the importance of a broad valorization of space technology. From solar panels to satellite navigation, various technological innovations developed for space were key to successful applications on Earth. Technology and know-how from space offer even more solutions for all kinds of societal challenges and technical issues.
Business incubation
The incubation program of ESA Space Solutions Belgium is aimed at start-ups working with space technology on new solutions (space spin-out) or seeing an application in space for their own technology (space spin-in). Galaxia Space Innovation and imec.istart guide start-ups in the development of their new idea into a complete business model.
ESA Space Solutions Belgium works in Wallonia with Galaxia Space Innovation, the regional consortium of Skywin, Idelux, CSL and WSL. In Flanders there is a collaboration with imec.istart, the leading acceleration and incubation program of imec. Interested Belgian start-ups can apply for open calls to receive up to 50.000 euros funding.
Launch event
Last Wednesday Verhaert presented ESA Space Solutions Belgium to about 140 guests in Agoria's BluePoint Brussels. Before the official opening, a matchmaking activity took place with more than 230 one-on-one meetings. "With ESA Space Solutions Belgium, we want to bring space companies in contact with other sectors in the first place. Personal interactions are crucial to create new collaborations", says Sam Waes of Verhaert Masters in Innovation and program coordinator at ESA Space Solutions Belgium. "In addition, we want to make entrepreneurs aware of the different support options in the Belgian space ecosystem."
First 3 start-ups announced
During the launch event, the first 3 start-ups of the incubation program were announced. Veoware Space uses high resolution images of satellites for geographical information projects (GEOINT). Heart Kinetics developed an instrument to accurately monitor heart functions in a non-invasive way. AirShaper offers an online platform to assess aerodynamics through a simulation performed on a cloud-based wind tunnel software.
---
Press release
Download the press release (English, French and Dutch) and pictures.