2016 was the year that the Internet of Things (IoT) entered the mainstream consumer domain with smart thermostats, smart appliances and even smart home solutions. Similarly, Artificial Intelligence (AI) is definitely not new anymore and many company processes are benefiting from it every day. But what about the aggregate of the two, AIoT? This magical combination should really get more attention as it is a powerful playbook.

AIoT involves embedding AI technology into IoT components. This merge of AI and IoT is an great tool whether you apply it in edge or cloud computing. Its objective is to increase operational efficiency, improve human-machine interactions and upgrade data management and analytics. When used the right way, AI can transform IoT data into valuable information for improved decision-making, both on-site and remotely. Artificial intelligence executed at the edge offers an incredible computing approach to provide local data-informed decision-making.

Moving intelligence to the edge
The quote 'AI act now', shows how AI enables devices to act and react to occurrences instantaneously and in real time. Some well-known AI-empowered edge devices are smart car sensors, robots, drones and surveillance cameras. To exemplify, AI helps self-driving cars and ships to maneuver through busy and crowded traffic without crashing into other (moving) objects. AI can also detect anomalies in the production process before it starts to cost the manufacturer a lot of money. Lowering latency is becoming progressively more important. Intervening now with AI can be very can have great outcomes.
For systems and devices that monitor, diagnose and take action on individual pieces of equipment, like home automation systems, it makes sense to perform the analysis as close to the device as possible. These applications cannot wait for data or commands from the cloud. Sending locally created and locally consumed data to the cloud, causes costly network traffic, delays in decisions and drain on battery-powered devices.
With a vast increase in IoT devices and tremendous data volumes, coupled with a simultaneous demand for low latency, we have identified a trend to move analytics from the cloud toward devices in the edge. This results the analytics to be closer to the intelligent things, data sources and environments they are in.

Edge advantages

Faster results. Less bandwidth.
Edge computing can avoid having to send data to the cloud and tries to achieve low latency, which provides a company with faster real-time context awareness, intelligence and decision-making. This is extremely important for applications where real-time response is essential and devices make AI-based decisions, such as remote controlled, autonomous driving .


Predictive analysis
Predictive analytics use a model trained by historical data to predict conceivable future outcomes. Currently, IoT devices are mostly being used by companies to report incidents or concerns without human intervention, like equipment failure. Performing predictive analysis on these machines is possible by including AI into the process. This will allow companies to identify potential problems prior to the failures, enabling to take proactive measures to optimize up time.

More security
In the cloud, security threats are omnipresent, and sensitive information is accessible from all around the world. Edge computing creates a safe distance from those threats by storing data locally. Moreover, an AI-empowered solution can even be used to identify malicious signatures at the edge of the system. If a cyber-attack targets IoT devices, the edge AI system can quickly execute countermeasures and safeguard the system .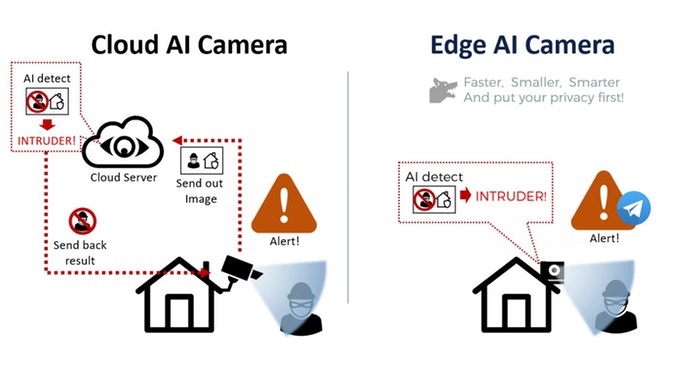 The potential of AI and the Intelligence of Things

Collective intelligence
Connected smart devices and connected environments can learn from the greater network of data sources (including each other) and create collective intelligence. There are numerous examples across industries that illustrate the potential. For example, situational awareness detection and vehicle to vehicle communication enabled smart traffic solutions for vehicles. Logistics service providers with different assets can gather data on temperature, humidity, weight, light intensity, VOC levels and air quality, among other things, to maintain the right condition of cargo.

Digital twins
Digital twins are virtual simulations of real-world things such as machines or wind turbines equipped with sensors. They allow engineers and people with operational responsibility to analyze the performance of equipment in the real world, while reducing the cost and safety elements of normal testing methods.

Simultaneous localization and mapping
Drones can interpret unknown surroundings while flying and mapping the environment, even when disconnected from the internet. It enable investigating hazardous areas like offshore operations, mines or large and difficult reachable infrastructures.

Autonomous robotic platforms
These robots map the environment, detect obstacles, other devices and humans. Moreover, they can drive autonomously through large warehouses, picking goods off the shelf and delivering them to the right place, , and even reroute when encountering obstacles.

Deploy intelligence where the application needs it
Edge computing creates new possibilities for systems and devices by acting on the data immediately, in real time, at the source, and without security dangers of transportation or remote storage in the cloud. However, every system or device if different, which requires different approaches to implementing AI. You need to keep in mind that at times not all data is relevant or needs to be sent to the cloud. On the other hand, different structures have different priorities. Sometimes the complexity of the analytics is more important, and sometimes the focus is on the speed. It can also benefit certain systems to analyze the data at the edge, without having to go back and forth to the data center.
---
Download the perspective