Transport has an important role in today's society with a large impact, it employs about 10 million people accounts for 5% of gross domestic product (GDP) In Europe. Effective supply chains are fundamental for the European companies' ability to compete and remain competitive in the world economy. However, digitalization is lacking with transport being among the least digitized industries with the highest potential (McKinsey, 2019). On top of that the ambitious climate goals set by the European Commission require the sector to decrease its greenhouse emissions with 90% by 2050.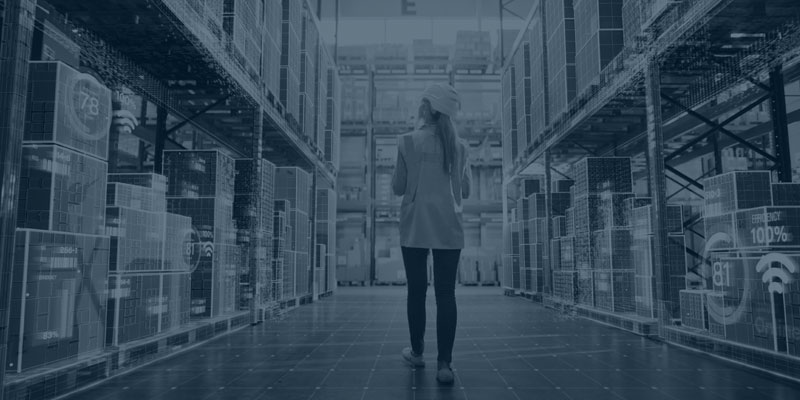 Digital transformation in online shopping on websites like Alibaba and Amazon, forces the sector to be more efficient, faster, resilient and applying transparency of goods. The logistics industry has benefited greatly from the e-commerce boom. About 400 million packages were shipped daily around the world in 2020, more than double from four years earlier (Parcel Shipping Index). Nevertheless the industry has a slower pace of digitization compared to other sectors. Leaving logistics businesses at an enormous risk of disruption by new 'digital' entrants or players from adjacent industries such as e-commerce.
The digitization will and is transforming the logistics industry rapidly and used for building more competent-leaner-immediate processes. Furthermore, they set up tactics to use technologies to provide customers' demands more efficiently than before, through a mixture of data analytics, IoT, robotics and blockchain, transforming the business's operations. Companies currently plan their global logistics with 3rd party suppliers for the supply and for the delivery of packaged goods across the world via wholesalers. At this moment the actors involved mainly have disconnected IT systems limiting supply visibility and resilience in case of supply breaches. Hence parties don't know what goods are exactly at what location and in which condition they are.
A better digital integration across the value chain and the logistics industry at large allows businesses to cut waste, operate more efficiently and become more reliable. Moreover, it would allow smaller players to better compete with incumbents and better secure their market position against outside disruptions. In addition, optimizing shipping/delivery routes and improving transport asset utilization also have important societal and environmental benefits.
Global trade created supply chain visibility issues due to complex supplier networks, leading to greater risk, shipping delays and lack of supplier accountability. Companies increasingly outsource transportation, warehousing and supply chain management activities, expecting these value added services to be integrated into their information systems. With their low-asset business models, particular industry expertise and their relatively large bargaining power, logistics service providers are in the perfect place to connect the value chain digitally.
Hence the logistic industry has 3 major challenges – agility, sustainability and visibility – companies are hoping to address those challenges through digital transformation. The trade globalization and digital consumers have driven sector growth while imposing new challenges. For example there's a growing consumer demand for agility through the rapid delivery of goods. Air cargo is the best means but decreases sustainability due to air freight's high carbon intensity, not to mention that rapid delivery also means often engaging with new vendors, creating visibility challenges. We need to innovate to find better solutions to address these challenges without negatively impacting others.
However logistics service providers often have underdeveloped digital capabilities, they also often lack of technological know-how and collaborative innovation mindset, due to a low average level of education of the employees and the geographical dispersion of these companies caused by:
Complexity of the logistics system and underlying processes
Lack of resources including skilled resources
Slow technology adoption and resistance to change
Data protection
On top of that we noticed resistance to change because of the complexity of the system. This consists in first place of the systemic complexity of the (often worldwide) network of intermediaries, carriers, warehouses, terminals, etc. to be managed. All these actors have to jump on board of a digitization project.
A second barrier is the lack of technological know-how. Logistics service providers have on average a low level of education and they are in a constant struggle to fill in their workforce. Often the operational business functions lack the capability and capacity to be involved in the digitization projects, leading to wrong technological choices or problematic outcomes. And of course, all these players are in a global competition for skilled IT personnel, leading to a high degree of out-sourcing and longer lead times for the digital solutions. As the digital capabilities are underdeveloped, the results of digitization projects are often lacking in quality (e.g. wrong technology selection or poor outcome).
The above is an ideal foothold for disruption. Technology development is primarily being led by innovative start-ups and often by international tech companies like Amazon but not by industry players. This could lead to third-party logistics companies being phased out in favor of tech companies offering capital and novel technology.
Download the perspective to discover more about the 3 hurdles of digital transformation in the logistics industry.
Hurdle 1: The company, why not every logistic company has the same challenge. You better know yourself.
Hurdle 2: Connecting digital strategy with clear implementation objectives (KPI's)
Hurdle 3: A biased focus on selection of the right technical stack