Verhaert's Strategic Innovation team has landed the new flagship project from the European Commission to boost NewSpace start-ups across Europe. Together with Plug and Play Tech Center, CIVITTA and Sting, the team will support space entrepreneurs with acceleration courses and seed money. Why is this program so important in the European landscape and who is it for? We've asked Pieter Deleye, Dany Robberecht and Benoit De Vrieze, who all played a key role in obtaining this contract for Verhaert. Check out their answers in the interview below!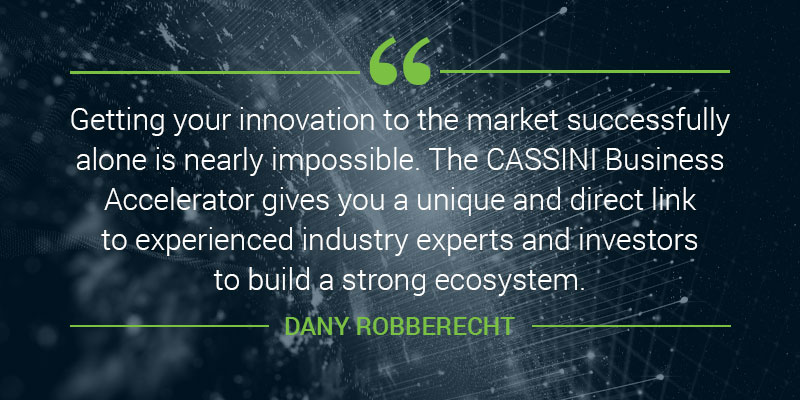 First of all, congratulations to you and your teams on winning the CASSINI Business Accelerator contract! Pieter, for anyone who hasn't heard about it, could you explain to us what this contract is all about?
"Yes, of course. The CASSINI Business Accelerator is a program from the European Commission to accelerate space start-ups and make them competitive in the global market. With a budget of €8.5 million, the European Commission wants to pull European space companies out of the shadows of the highly-invested American and Asian projects."
What will this mean in practice? How will this money be used?
"The program will offer support through both learning and acceleration support, and €6 million in seed money. So the largest part of the budget will be dedicated to supporting the accelerated start-ups and scale-ups financially after finishing the program. The acceleration journey itself will consist of learning (Verhaert) and acceleration support (Plug and Play, CIVITTA and Sting) in dedicated locations and markets of interest, as well as mentorship in key areas such as sales and business development planning, investment readiness, and market expansion."
A well-rounded program with a clear purpose! Who will be eligible for this program?
"All starting entrepreneurs within the European Union that are working on space-related innovation projects can apply to this program. Twice a year, 20 start-ups or scale-ups will be selected to participate in the 6-month acceleration journey."
Benoit, you and your team are taking on quite the challenge. Why is Verhaert's OpenLab in such a good spot to shape and manage the CASSINI Business Accelerator?
"Well, the CASSINI Business Accelerator is definitely the biggest accelerator contract we've ever won, but it's not our first time managing this type of initiative. Over the last decade, we had a big role in other space acceleration initiatives like setting up and managing the ESA Space Solutions Center Belgium, including technology transfer, business incubation and funding. On top of that, we've co-organized programs like FIRE, Point.IoT and recently the CASSINI Hackathons. All this experience gives us the confidence to take on this new challenge together with Plug and Play, CIVITTA and Sting."
Based on your experiences, what's one aspect people sometimes overlook when setting up this kind of program?
"Acceleration programs are not a one-size-fits-all solution. Even if you set up a thematic accelerator targeted to one market, you still need to allow room for tailored support. The larger the group of participants, the more different their needs will be. To make sure all teams are fit to become key players in the international market, you will have different gaps to fill. That's why we're so pleased that Verhaert Innovation Academy, part of the Verhaert group, will also support this. Customizable innovation courses are one of their key offerings and expertises."
Dany, you must feel really proud of your team for reaching this milestone. So tell us, what does this mean for the Strategic Innovation team and Verhaert in general?
"This contract confirms that we're not only leaving a mark in the Belgian, but also the European and global innovation landscape. It's truly a milestone in our efforts to help boost the European capacity to innovate and puts us in the pole position to continue doing so. Innovation is a well-established growth strategy, but unfortunately, the return is often too low. That's where we can help."
So does this mean that this accelerator will also benefit other innovation domains?
"Definitely! What Formula 1 does for the automotive industry, space does for many innovation areas on Earth. Space has become a very dynamic industry: large private space companies like SpaceX, Blue Origin and Virgin Galactic are inspiring many small companies to capitalize on the innovation wave too. It's become a technological playground to develop new materials, systems, technologies and so much more. That's why ESA Space Solutions Belgium, for example, has been investing heavily in transferring space technology into everyday applications. It's the future for innovation on Earth."
And a final question, why should European NewSpace start-ups apply for the CASSINI Business Accelerator?
"Getting your product or service to the market successfully is not a walk in the park. Doing it alone is nearly impossible. Regardless of how far your technology stands, you still need an entire ecosystem to make it ready to launch. And that's the unique offer of the CASSINI Business Accelerator, a direct link to experienced industry experts to build your network and connect with investors."
Special thanks to Pieter, Benoit and Dany!
Pieter Deleye
Manager Innovation Acceleration
Services – Strategic Innovation
Benoit De Vrieze
Coordinator OpenLab
Dany Robberecht
Director Strategic Innovation