This year's Innovation Day focuses on 'innovation for a better world'. Consumers expect that industry contributes to the creation of a better world. A challenge and opportunity for both companies and start-ups.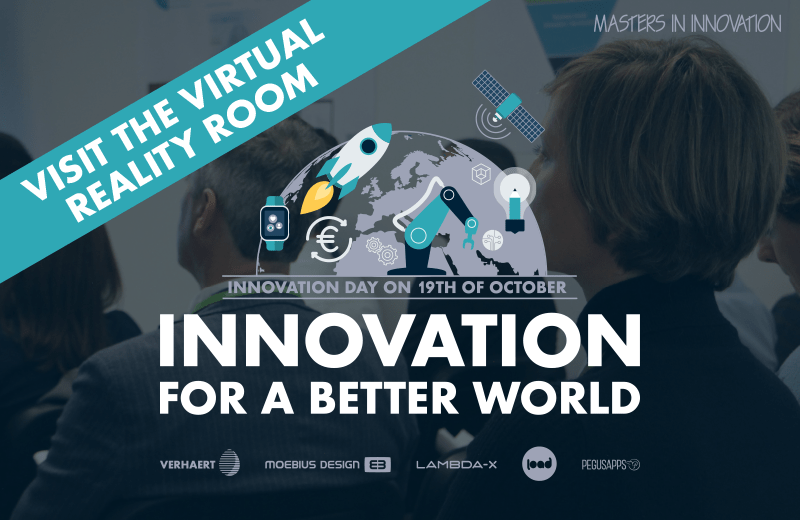 Verhaert's Innovation Day is an annual conference to encourage innovation and R&D professionals to innovate. With 16 inspiring sessions in 5 tracks you learn from insights, best practices, tools, cases and concepts on product and innovation management, and technology development. This year we're celebrating the 15th edition. Register quickly because place are limited.
Program
Track 1: Circular economy for a better world
The end of ownership, new servitization and transport innovation create opportunities for a truly circular world resulting in completely new value chains.
1.1 Integrating AI techniques to build meaningful product concepts
1.2 Circular economy in the chemical sector
1.3 New toolset to give your product portfolio a circular make-over
1.4 Circular approach of passenger aircrafts
Track 2: Digital technologies for a better world
Our fast growing virtual world creates opportunities and challenges: realizing an experience economy, fighting digital crime and improving ambient living.
2.1 Conversational bots creating new experiences
2.2 How can blockchain help us in the fight against fake news, corruption and hacking?
2.3 Digital empowerment of older users
Track 3: Robotics for a better world
Fusing Artificial Intelligence and robotics technologies lead to endless possibilities ready to improve our world.
3.1 How to approach Machine Learning for innovation projects?
3.2 Use Artificial Intelligence to make smart decisions
3.3 Improving quality of life through human centered robotics
Track 4: Design for a better world
Changing the complex world cannot be achieved by a single person, company or sector. Gathering data from and controlling behavior of all actors through collective intelligence are pathways to innovation.
4.1 Innovating the smart city
4.2 Nudging, design concepts to change behavior
4.3 Collective intelligence: a dystopian innovation path today, a utopia tomorrow
Track 5: Space technology for a better world
Space technology becomes more and more an imminent opportunity to innovate. Future space exploration and space data deliver technology transfer occasions for a better world.
5.1 The social relevance of Earth observation data
5.2 Optics for science exploration
5.3 Scaling production of cell based therapies