How do you make sure your supply chain doesn't become the weakest link in your construction projects? From manufacturers and installers to contractors and builders, the relationship with your stakeholders is a crucial step in your long-term growth strategy, because it relies on lasting loyal partners. Join us on May 25th for Verhaert Digital Innovation's 'Relationships built to last' webinar with Reynaers Aluminium to unlock loyalty in the construction industry with digital solutions.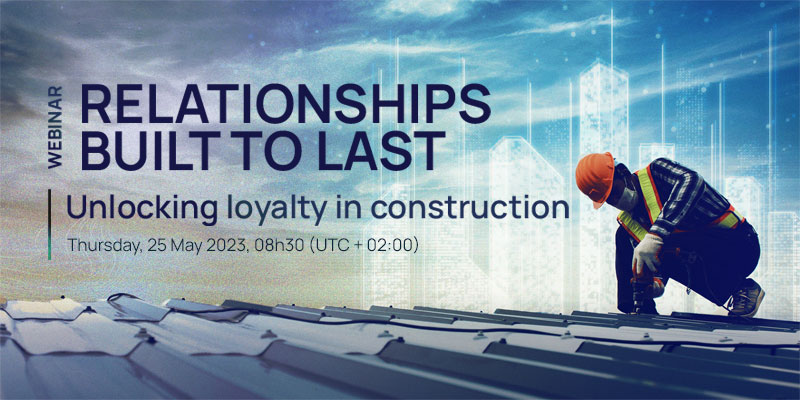 What can you expect?
The lack of visibility and control over the entire supply chain, from manufacturers to installers and builders hinders loyalty, marketing effectiveness, and ultimately your growth. Our expert digital innovation strategist, Bert Verlinden, will guide you through the building blocks to set up a digital strategy that addresses the challenges of today and the future. You'll gain valuable insights on how to create direct digital relations based on your business strategy that helps your business in the long run. Say goodbye to roadblocks and hello to a digital solution that propels your business forward.
Set up a digital future-proof roadmap
Our digital solution architect Bert Verlinden will walk you through the essential building blocks needed to set up a digital strategy for your construction business, using examples from the industry. Developing a digital roadmap from scratch, addressing common pitfalls, and sharing actionable tips, this webinar will hand you the insights on how to tackle the challenges your business faces today and tomorrow.
Reynaers' vision on the future: DigiTrace
Reynaers Aluminium is a frontrunner in digitalizing construction business. Together, we developed DigiTrace to connect the whole ecosystem, from manufacturer to installer and homeowner. This tool enables information sharing with all stakeholders optimizing operations and feeding Reynaers with insights to improve its service. Discover why and how the strategy was developed from Stephanie Kellens, product manager digital services at Reynaers and get inspired with key takeaways you can apply to your own business.
Sign up for this webinar on May 25th from 8:30 AM to 10 AM CEST here and join us for invaluable insights on how to unlock loyalty in the construction industry.