Currently available Artificial Intelligence solutions can solve your logistics and mobility challenges. Which new AI based solutions will encourage digitization in the sector? Lantis, Dockflow, Geckomatics, Faktion and Verhaert, in cooperation with The Beacon invite you to our seminar on Wednesday 29 January to discuss AI SOLUTIONS 2025.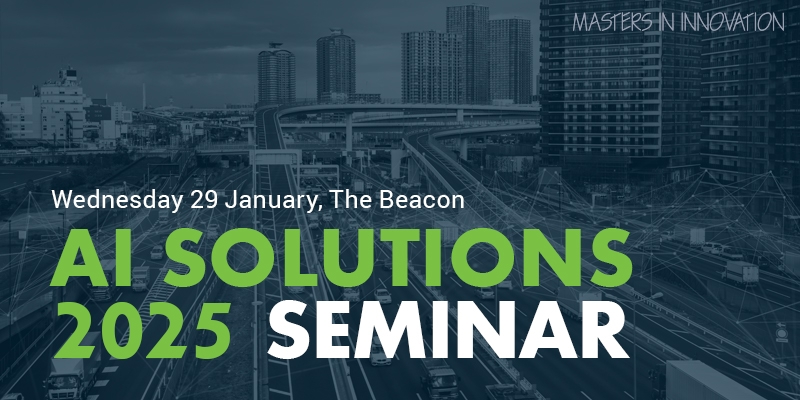 Optimize logistics with AI-driven solutions
Digitization and AI are entering the logistics and mobility sector at a fast pace. The sector is under extreme pressure to speed up advances and prepare back office systems and mobile assets. To remain competitive, AI will play a major role in transforming the abilities of companies by using:
Automated document processing
Routing and supply chain optimization
Truck, ship and car data
Asset data and Physical Internet

Join the seminar to speed up your innovation in real-time decision taking and optimize logistics in the race for ultra-efficient logistics and fleet costs. After some in-depth case studies, you select one of the 4 topics above for a workshop session.

Program 'AI solutions 2025'
18h00 – 19h00
Networking
14h00 – 14h10

Welcome

14h10 – 14h30

Opening by Lantis

Challenges & opportunities of Lantis and how technology can help

Luc Hellemans, CEO Lantis

14h30 – 15h30

4 short pitches

1. Verhaert Masters in Innovation

Supply chain optimization
The supply chain management of your company can be a major task if you're dealing with multiple production sites, multiple products, multiple warehouses, large customer base in a global arena. Through AI, predictions can be made where to produce your units in an optimum way to deal with your customer demand forecast.

Car data driven smart city prediction
The use of car sensors can be utilized to get hyper local indication of traffic, road conditions, weather and much more. By combining the data coming from all vehicles, it is even possible to create a data driven weather model which is useful for logistics optimization.

Artificial Intelligence to control street lights
What if we could control street lights by using rule-based algorithms and machine learning? Can we integrate internal and external data sources to determine more precisely (timing and location-specific) whether to switch them on or off? Let's explore the use case and how we started such project during this workshop.

2. Faktion

Intelligent (back office) automation
Today's global transport economy leaves companies across the globe with numerous significant challenges. How can you compete in logistics & mobility on a global scale? Outperforming competition means differentiating yourself through several axes in your core business, as well as the peripheral supporting activities. During this session FAKTION explores how companies can leverage AI and Machine Learning technology, such as NLP and Computer Vision, to create a hyper efficient back office and administrative supporting function in logistics.

3. Dockflow

Use case for the Physical Internet
Lately, the concept 'Physical Internet' has been gaining a lot of popularity, but it's always pictured as an unattainable utopia of how logistics should be. At DOCKFLOW we're starting with the development of a significant first step in Physical Internet: an intermodal route optimization system, which aids freight forwarders in their decision making process. This solution will drastically increase the efficiency of freight transport by leveraging AI and Machine learning technology.

4. Geckomatics

AI powered mobile mapping
Digital maps play a pivotal role in a growing number of business processes. However, the potential of geographical information is currently underutilized because the traditional process of creating maps is complex and expensive. This leads to a scarcity of actionable information. GECKOMATICS will showcase route scouting for exceptional transport, road information and port asset inventory. Having better, recent and relevant maps will be instrumental in improving logistics management.

15h40 – 16h00

Funding

VLAIO (Flemish Agency for Innovation and Entrepreneurship) disposes of a whole spectrum of instruments available for entrepreneurs that want to work with AI. Their support ranges from very accessible tools, for example for training and advice, up to and including support for implementing AI technology in business processes or products. This presentation will provide you with a concise overview of the possibilities of VLAIO support, and how to work with them.

Jo Bultreys Program Advisor Artificial Intelligence & Cybersecurity, VLAIO-Team Business Processes

16h00 – 18h00

Workshops

Practical info
When? Wednesday 29 January 2020, from 14h till 19h.
Where? AMORAS (8th floor), The Beacon, Sint-Pietervliet 7, Antwerp

Partners