Verhaert Masters in Innovation, the innovation factory with headquarters in Kruibeke, has subscribed to a capital increase from the imec.istart Fund. The investment fund imec.istart Fund receives a substantial capital injection and grows from 12.5 million euro to more than 30 million euro.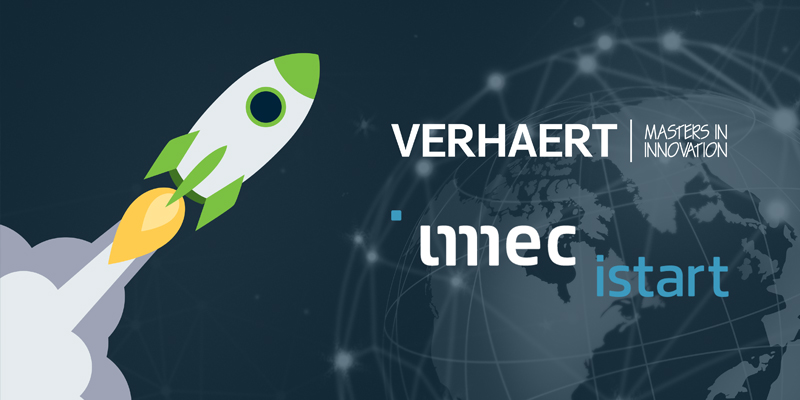 Coaching tech start-ups
"Within the MyStartUp programme, Verhaert has guided and provided equity free seed money to more than hundred start-ups across Europe in recent years on the authority of the European Space Agency ESA, the European Copernicus and Point.Iot program and several MedTech accelerators," says Koen Verhaert, CEO and Program Director MyStartUp.
With this investment in the imec.istart Fund, Verhaert, through the fund, now also invests in the capital of such tech start-ups. "We have chosen the imec.istart Fund for this because of their track record, ecosystem and multi-sector approach. Verhaert will also help to guide the imec.istart team and coach the start-ups in further developing their idea into a marketable and scalable product."
imec.istart Fund
The imec.istart Fund was established in 2017 with a starting capital of 12.5 million euro and a focus on start-ups working with digital technologies. The Flemish government and private partners who co-initiated the fund are imec, ING, BNP Paribas Fortis, Telenet and Cronos Groep. Besides its initial focus on digital technology, special attention will be paid to sustainability and IoT physical products. To reinforce this evolution, the fund also attracts 4 new partners: Verhaert, Nuhma, EFIN and Vlaamse EnergieHolding. This way, the capital of the imec.istart Fund grows to 30.5 million euro and the right framework is created.
During the past years, the investments of imec.istart often turned out to be a flywheel for follow-up funding. Every euro that the imec.istart Fund invested in start-ups generated on average more than 25 euro from other sources. Together, the portfolio companies of the imec.istart Fund raised over 320 million euro in follow-up funding. With the capital increase, the various partners want to further increase the impact of the start-up ecosystem and thus contribute to innovation and a sustainable local economy.