How do you develop viable innovative projects and business opportunities effectively? How do set up and manage corporate innovation programs? Find out how to empower employees and leverage on corporate entrepreneurship during Verhaert's 'Scaling corporate innovation' webinar on Thursday May 5th together with AfCE, Bayer and DEME.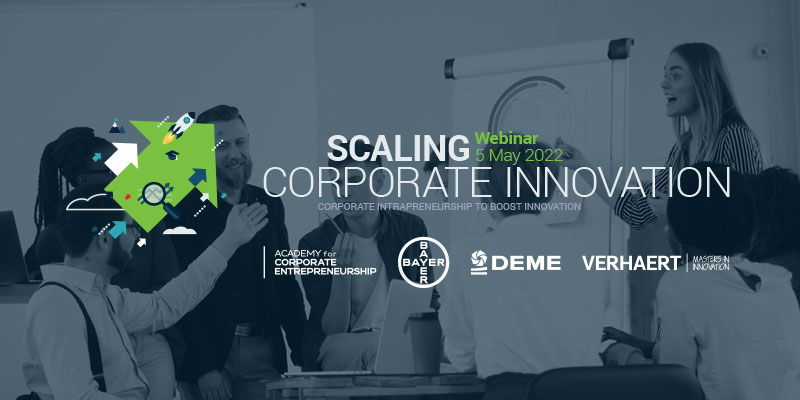 Corporate entrepreneurship as a scalable innovation engine
Digitization, sustainability, doing more with less, increasing the output of innovation, and many more innovation trends are becoming a must-have for consumers, instead of a nice-to-have. How do you organize your company to implement these criteria when creating new sustainable businesses?
Scaling corporate innovation allows you to leverage on your employees as innovation champions. It creates an ongoing and scalable innovation engine, while elevating and empowering your workforce. To set up and manage corporate entrepreneurship, you need to adopt the right mindset and provide supportive programs.
Best practices & proven frameworks from innovation experts
Corporate entrepreneurship seems like the holy grail for innovation, yet there are still several obstacles until you can successfully build on your in-house innovation capacity. During this webinar you'll find out how to overcome these innovation management challenges through best practices and proven frameworks:
15h00 – The most common challenges to upgrade your innovation capacity (Verhaert)
15h25 – Intrapreneurship as an innovation strategy (Bayer)
15h45 – Organizing a scalable engine for innovation (AfCE)
16h05 – How to enable innovation champions (DEME)
Interested in attending the 'Scaling corporate innovation' webinar? Visit the event page to register of find more information about the sessions.