MEDICA is the world's largest event for the medical sector. It's a 'must-attend' if you want to experience tomorrow's healthcare market and medical technologies. This year the event returns to the fair halls in Düsseldorf. You can find Verhaert on booth G73 of Flanders Investment in Trade in Hall 3. Book a personal meeting or follow one of our daily talks at our booth.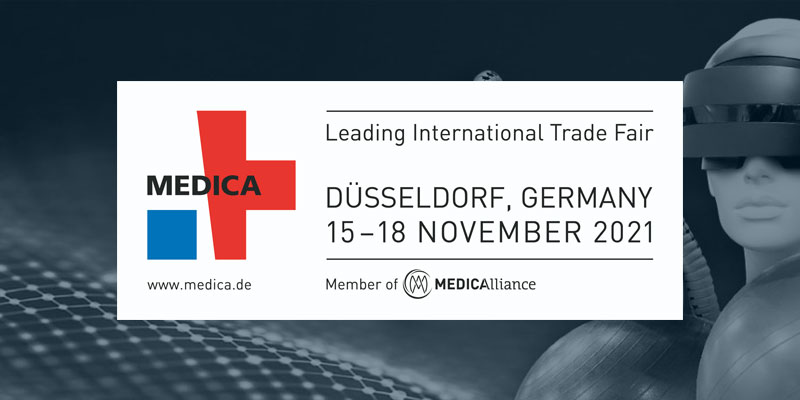 Book a meeting on the fair
Verhaert is present on booth G73 of Flanders Investment in Trade. Visit us and book a personal meeting at your convenience.
| | |
| --- | --- |
| Life Sciences | Digital Innovation |
| | |
Grasp one of the daily talks at our booth at 14h
Tuesday, 16 November 2021 at 14h
How we developed a groundbreaking rapid Covid test together with imec
Frederik Mortier, Program Manager Life Sciences at Verhaert
The leading micro-electronics research center imec and the pioneering product development group Verhaert Masters in Innovation entered a strong partnership to develop a ground-breaking rapid Covid test ultrafast based on breath sampling and accelerated PCR technology. A functional prototype will now be commercialized by MiDiagnostics. In this talk, Frederik Mortier will explain how we organize for complexity and speed-to-market.
Wednesday, 17 November 2021 at 14h
Designing medical technology for low-resource settings
Jelle Schuitemaker, Co-founder & COO at Goal3
Why is more than 90% of all medical technology, designed for only 10% of the world, living in high-income countries? And why should designing for low-resource settings be different? How come up to 70% of medical technology is malfunctioning in these low-resource settings? In this talk, GOAL3 co-founder Jelle Schuitemaker will share insights from visiting more than 40 African hospitals throughout various countries, talking to nurses, doctors, procurement officers, and CEOs on the challenges faced in low-income country (LIC) healthcare settings. But we're not only discussing challenges, as these emerging markets are also full of frugal, smart solutions, filled with opportunities to learn from in the Western world. This talk can be an inspiration to all designers, procurers, distributors, trainers, and decision makers in the healthcare sector to learn more about the markets of the world that are often underestimated or even forgotten in medical technology.
Thursday, 18 November 2021 at 14h
Overcoming the hurdles of developing new medical products & services as a start-up
Wouter Hendrickx, Coordinator Medical Solutions Accelerator & Business Development Solutions – Life Sciences at Verhaert
Every great organization was once a small team with an idea worth developing. Today, we want to support start-ups from this perspective in developing their proposition. Together, we create the next steps in their development plan, by challenging them in different ways. Trying to solve real problems, building sustainable business models, powered by high-end technologies, these are the ingredients to create the solutions of tomorrow. We do this in partnership with the University of Antwerp, The Antwerp University Hospital, City of Antwerp, VOKA, Flanders.Bio and much more. By combining the core-knowledge of these different partners, we deliver all the building blocks needed to let their business grow.
The Life Sciences field is quite challenging for start-ups. Besides creating a business model and developing a product or service, entrepreneurs have to tackle clinical trials, medical regulations and develop a hard-to-tackle Go-to-Market strategy. This is possible if you have to tackle this wisely. In this talk, Wouter Hendrickx gives some typical pitfalls and opportunities when developing new propositions in the medical field.
Innovation in Life Sciences
Having the right tools to develop new applications in the broad field of BioTech, is one of the most important challenges researchers face. Developing IVD devices that support fundamental research in a reliable way is the challenge of many companies today. At Verhaert we help the bio-ecosystem by supporting them in different ways: by building mechatronic sub-systems for lab-automation, by experimenting with optical read-out elements for PoC-devices or by creating algorithms for deep data analysis are some of the many services we deliver day-by-day. Helping our client build the lab of tomorrow, is one of the things we love to do the most.
It's no secret that the MedTech market has a great potential for innovation. Every healthcare provider, doctor or surgeon can point to several challenges they face today, based on the growing need for better products and services. At Verhaert we help our customers by developing new equipment, monitors and medical devices. This by de-risking the development track with our proven product development methodology. As ISO13485 certified partner, we can help you develop products from the fuzzy front-end to production. Together, we create new products that people can rely on.
One of the biggest trends in the field of Life Sciences is the shift from centralized to decentralized care. One of the effects here is that a lot of HealthTech companies are experimenting to get patients more involved in this broad ecosystem. Developing products and services that focus on preventive medicine, tracking health data and informing customers in advance about their health status, is no exception anymore in this emerging digitized market. On the other hand, digital therapeutics or follow-up solutions are booming in different directions. At Verhaert we help our customers by getting the user journey sharp, helping extend their business by creating digital solutions and exploring how the physical and digital world can overflow smoothly by developing great IoT-based products.