Looking for state-of-the-art technology that works in extreme conditions: thermal, high heat, radiation, cooling, precision, magnetics and more? Join the webinar on Friday 13 December and get a 30-minutes introduction on what fusion technology has to offer for you and your business. This webinar is a stepping stone for the upcoming network event in January 2020.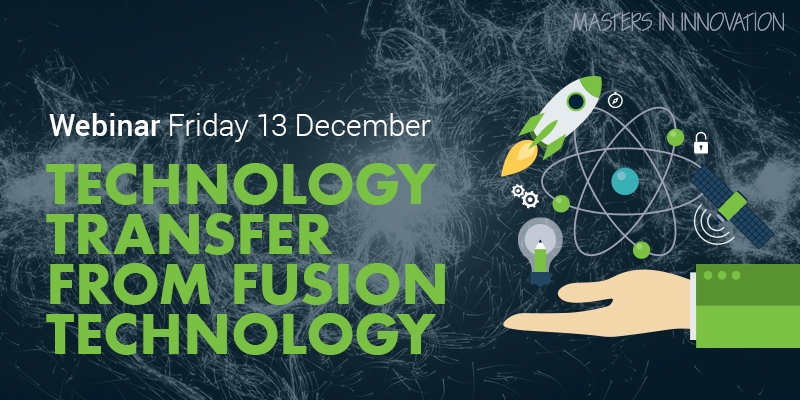 Performance in extreme conditions
The technologies developed in Europe's fusion research laboratories (EUROfusion) perform in extreme conditions. Therefore, they offer a wave of opportunities for companies that want to innovate in a multitude of fields: robotics, automated systems, smart materials, manufacturing and fastening methods, precision parts, software modelling, machine building, measuring techniques, diagnostics etc. Any conceivable application can make use of fusion technology. A few success stories to inspire you:

Technology Transfer broker network
For the next 2 years, Verhaert Masters in Innovation joins the EUROfusion broker network promoting the use of fusion technology in everyday applications. Verhaert has been chosen as a broker because of its long-standing experience in space and technology transfer. There are very strong similarities between the types of technologies developed for the fusion and space industry, as they both have demanding applications where ultimate performances and reliability are required. Often the environment is extremely harsh and technologies for both fusion and space must reach a high technology readiness level.

During this webinar you'll discover
Which technologies does EUROfusion offer?
How can these technologies boost your business?
How does the Technology Transfer program work?
How to get funding to implement one of the technologies?
How do you get connected with your fusion broker?

Practical info
When? Friday 13 December 2019 at 14h.
How? You'll find the link to the webinar in your registration mail.

Network event 23 January 2020
This webinar is a stepping stone for our interactive network event focusing on matchmaking and technology transfer from both space and fusion technology.
Eager to know more? Save the date! More information will follow soon.