So you've been tasked with innovating your company's processes with data science and artificial intelligence. Your initial reaction might be a mix of skepticism and confusion. Skepticism because, let's be honest, your processes are quite complex and involve an intricate blend of proven tools and human action. Confusing, because you know your company's processes and products inside out, but you don't know how to start identifying artificial intelligence opportunities. This article aims to help you untangle this daunting task by giving a bird's eye view of our proven process to uncover hidden AI potential.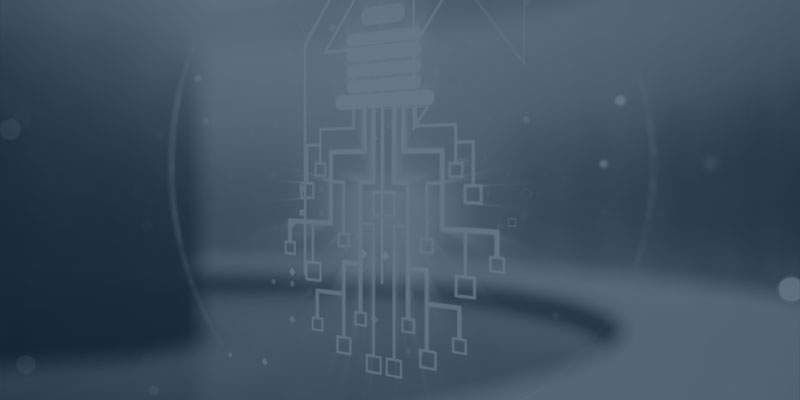 The 8 steps to success, feel free to skip to the ones that are most dreadful to you:

AI workflow © Verhaert
Step 1: Identify the process
Every AI journey should start with defining a business case, the process in your company that you want to consider for innovation. Think big, select this process based on its importance within the company. Try to suspend any disbelief in its suitability for innovation with AI.
To clearly define this process, you should provide a fitting name, a short description and identify the in- and outputs. First, qualitatively describe the desired output from this process, because that's what we really care about. This might be decisions, actions, advice, product or service to your customer. Next, try to list the inputs required for this process. The inputs should include any information and resources used to facilitate this process.
If you feel up to it, you can already try to identify the metrics to evaluate the performance of your process. You might want to start with the metrics you're using today or consider new ones.
This step aims to scope what is contained within the process and what is assumed in- or outputs. Don't be alarmed, it is perfectly normal to improve this analysis as we go. Your best try is good enough for now.
Step 2: Divide into constituent tasks
No one knows your current processes better than you do. Certainly not some AI evangelizing specialist. Yours truly. Fortunately, the process starts with you. For now, forget about AI. Decompose your current process into a graph of sequential tasks. These tasks are functional blocks performed by employees, software, services or other tools used in your company. Try to drill down until all tasks are decomposed, within reason, to their most nuclear subtasks.
Step 3: Define the tasks more clearly
For each identified task, try to define the following fields and put them on a sticky note:

AI task definition © Verhaert
Step 4: Determine the AI eligibility of the tasks
We must determine which tasks are even eligible for innovation with artificial intelligence. We advise consulting an AI specialist to help you with this task. However, it is possible to do a sanity check yourself. Try to identify if your task can be linked to a field in the AI capabilities chart. It is tough to summarize all AI capabilities, so the categories are broad. This is a feature, not a bug. If you can vaguely assign your task to one of the fields in this graph, consider them eligible for now. Don't worry about the practical limitations just yet. Only retain the qualified tasks in the further steps.

Summary ML/AI capabilities © Verhaert
Step 5: Score the returns and investments
Impact – The R in Roi
Let's estimate the potential return of augmenting current tasks with AI. In the next phase, you might even think about new return streams that can be unlocked with AI. But let's start practical and focus on current tasks.
There are two main ways to increase return when augmenting tasks with AI tools.
Increasing performance for a task – Try to identify the most relevant performance metrics for this task. Then define a meaningful improvement on that metric and quantify the return this improvement might achieve. Interestingly, this number will serve as a KPI for future AI projects.
Reducing operational costs for a task – Try to quantify current operational costs for a task. This might include software licensing fees, external services, time and material.
In this stage, calculating exact returns might be impossible. Not to worry, we often try to estimate some relative return score on a scale (0-10) with all relevant stakeholders.
Effort -The I in ROI
Next, we estimate the required investments to apply AI to your task. We advise including an AI expert. In the 'define' step, you should have identified the most critical inputs required to estimate the investment. A data scientist can help you determine whether your current data flows are sufficient to feed an AI model. If not, they can estimate the amount of work required to set them up. The data scientist can also help assess if you have the correct historical data for development and the potential cost of gathering missing data. They should be able to make a rough estimation of the development cost and the operational cost associated with an AI system for this task. Again, we only need relative scorings on the potential investments required for each task.
Step 6: Rank & select all tasks with an impact/effort matrix
To determine which projects are eligible to tackle first, we fill in an effort/impact matrix with our metrics for return and investment. After that, we can clearly define a development roadmap. We advise selecting a champion case with high impact and relatively low effort.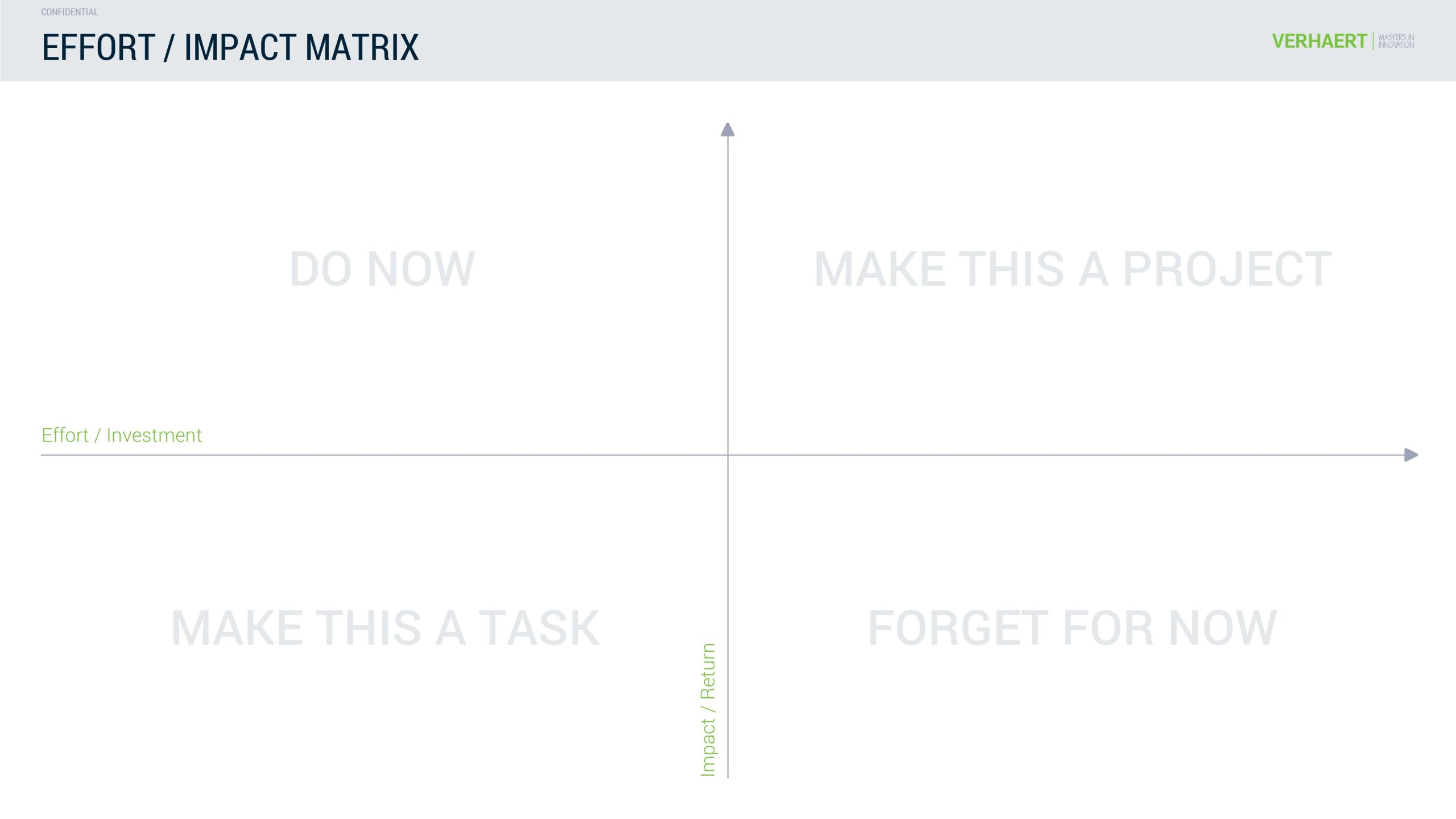 Effort / Impact matrix © Verhaert
Step 7: Detail the champion tasks with the AI canvas
In the next step, you can use our AI canvas to analyze the champion tasks. Ideally, this canvas is filled in during a workshop by task stakeholders and an AI expert. Read our posts on using the AI canvas to get more detail.

AI canvas © Verhaert
Step 8: Start experimenting
Your company is ready to close the 'Exploring phase' in this final step. We have identified a champion, the AI case with clear added value, and we have scoped the project with our AI canvas. This means we are done 'Exploring' and are ready to start the 'Experimenting' phase. The outcomes of the AI canvas serve as a well-defined scope for an AI team, to begin with Proof of Concepts. This is where the real fun starts! Get in touch to help you at any stage of your AI journey.

AI project phases © Verhaert