The epiphany – when you come up with a new idea for a breakthrough product or service. You are excited that your solution may save or improve lives. You might transform how we treat patients or how researchers discover new treatments. At that early stage, you should start understanding who might have an interest in your solution or is affected by your solution. Quickly, you will notice that this goes beyond the doctor, patient and researcher.

Let's start pragmatically, your primary stakeholder, the customer drives sales. A sales cycle starts with identifying a champion, someone who is convinced of your offering, and a strategic channel to reach them. In the ecosystem of your champion there is a myriad of influencers and decision makers with different motives and drivers. Understanding what their impact is, who they are, and how to address them appropriately may transform any of them in your champion – contrary, ignoring them may result in severe resistance.

Understanding stakeholder importance
The European health system is undergoing a transition towards value-driven procurement, in contrast to price and volume-based procurement. To do this you need to address the increasing cost and moving towards a sustainable system, with cost-effective high quality care for patients. This will indeed be enabled by innovative solutions. Due to the degree of innovativeness, such solutions require additional investments or even infrastructural changes. Over the last decade several initiatives led to the development of the Most Economically Advantageous Tender (MEAT) Value Based Procurement (VDP) framework. This framework was developed to allow organizations to partner with MedTech companies as part of premarket consultations – a great tool to get a head start in understanding your ecosystem of stakeholders.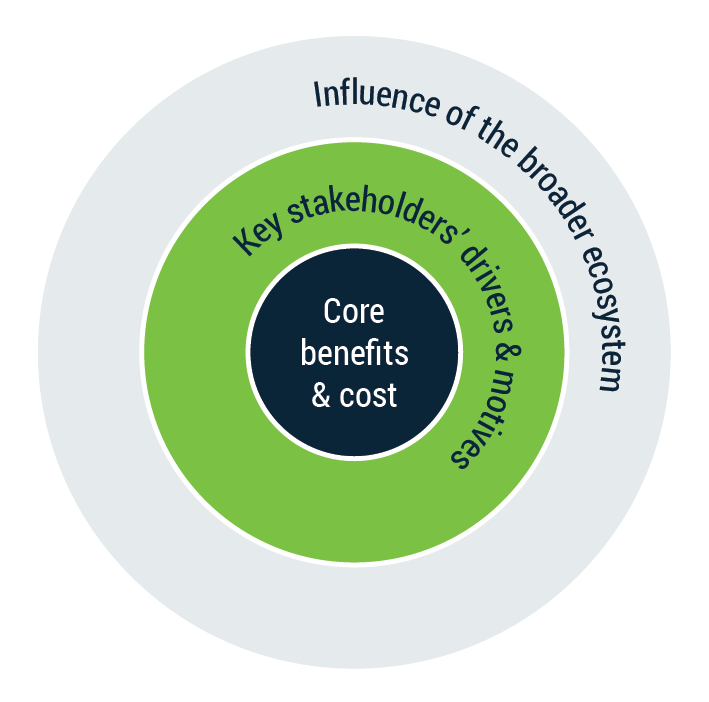 Generic procurement framework for Life Sciences
The framework illustrates the complexity of an ecosystem in the Life Science domain. In the excitement of your own innovation, a common mistake is to overestimate the importance of certain performance attributes, either due to a cognitive bias or simply because one looks at their own solution through rose-colored glasses. Therefore, it is essential to start gathering evidence that you are able to address your stakeholders early on in your development. At an early development stage, you can pivot readily and ensure a successful adaptation upon product launch.
Value-based procurement framework for MedTech
Now – in some cases the ability to pay for your solution by your end-user may not be sufficient, yet the societal value would exceed the money spent. In this case, the solution should be eligible for reimbursement. This is because incremental innovation evidence can be readily collected. However, once we look at transformative and disruptive innovations, this is more complicated. In that case, you should engage in active and continuous dialogue with health systems early on in their development. This is necessary for early evidence collection and to ensure innovation valuation as described in the Value of Innovation Partnership Model proposed by Prof. Lieven Annemans.
Any questions on this post? Submit them below and we'll get back to you soon!