Sustainability is all around us, companies are increasingly focusing on it. How do you get beyond using sustainable materials in products and packaging design, and create real, new, profitable values? The webinar 'The Circular Paradox' is for everyone who's interested in combining circularity and commercial value creation.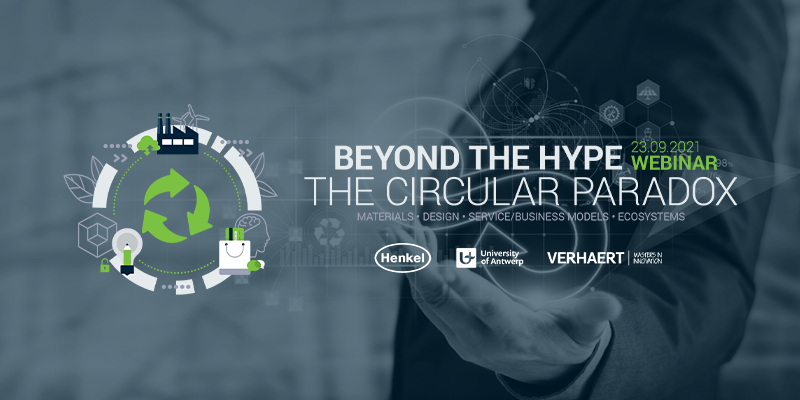 The circular challenge
The challenge lies in the additional cost of using higher-value materials and changing the existing value chain to allow refurbishment, reuse, recycling and upcycling products. To reach this leap you'll need to intensify front-end learning, incorporate new services and business models, new ecosystems and new partnerships, and consequently look different to the product ownership.
The circular solution
Product and packaging circular design is at the heart of the circular economy, but will need to be leveraged to a next level through new materials, leveraging upon ecosystems and services. Solving this paradox opposes challenges to continue decreasing the environmental footprint. This equation becomes more and more strategic, moving beyond circular products and packaging.
Program overview 'The Circular Paradox'
Explore innovation in circular economy during the webinar on Thursday 23 September together with Henkel and UAntwerp. For more information about the topics that will be discussed, go to the full program of the webinar.
9h30: Environmental footprint of cosmetic products (Henkel)
9h55: From waste plastics to (precious) chemicals (UAntwerp)
10h20: Transformation towards circular ecosystems (Verhaert)