People no longer seek just products. They crave services that perfectly cater to their needs and desires. Embracing software as a core capability, instead of a mere add-on, and creating an ecosystem that attracts stakeholders to join the platform is the only path to triumph. Let's compare 2 companies in the automotive industry and their battle for interconnected experiences.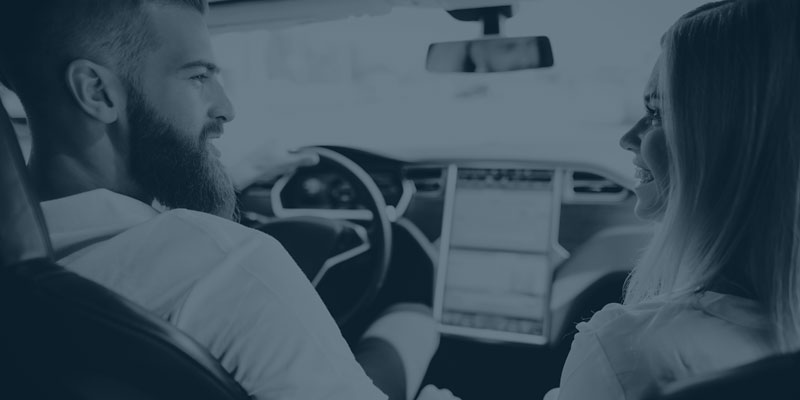 As we delve into the importance of integrated software solutions and their transformative impact on the automotive industry, one prime example stands out—Tesla. Embracing software as a core capability and creating an ecosystem that incentivizes stakeholders to join their platform, Tesla has emerged as a trailblazer in redefining the driving experience. Unlike traditional hardware manufacturers, Tesla's unwavering commitment to developing its own advanced software has allowed them to stay ahead of the curve.
In this context, let's explore why Tesla's decision to integrate its software independently, rather than opting for solutions like Android Auto or Apple CarPlay, makes perfect sense and showcases the power of a seamlessly interconnected experience for users.
Integrating existing platforms
In contrast to Tesla's strategy of independently integrating its software into the total driving experience, Google and Apple approach the automotive industry through their respective platforms, Android Auto and Apple CarPlay. These platforms are designed to extend the capabilities of smartphones into the vehicle's infotainment system. They allow users to mirror their phone's interface on the car's display, providing access to familiar apps and functions.
Both platforms offer a way for traditional car manufacturers to integrate smartphone functionalities seamlessly. CarPlay and Android Auto can be seen as solutions for carmakers that may not have the resources or expertise to develop their own advanced software systems like Tesla.
Questioning software as an add-on
While Android Auto and CarPlay offer familiar app interfaces and functionalities, the integration can sometimes result in a disjointed experience within the vehicle. These platforms operate separately from the car's native software, potentially leading to more steps to access certain functions. In contrast, Tesla's in-house software is tightly integrated, providing a more cohesive and seamless user experience.
Moreover, by incorporating CarPlay or Android Auto, car manufacturers give up some control to Google and Apple, as these tech giants dictate the user interface and user experience. Tesla, on the other hand, aims to retain full control over its platform and offerings, which aligns with its vision of being a leader in the future of the automotive industry.
In summary, while Android Auto and Apple CarPlay offer a way for traditional car manufacturers to enhance their infotainment systems, Tesla's decision to independently integrate its software allows for a more tightly integrated, cohesive, and advanced driving experience, aligning with their long-term vision for the future of electric vehicles and software-driven features.
The automotive industry's perspective
Now, to gain further insight into the significance of Tesla's vertical integration strategy in the automotive world, we turn to a revealing interview with the CEO of Ford. In this candid testimonial, the Ford CEO sheds light on why Tesla's unique approach to integrating software and hardware is paramount in shaping the future of the industry.
Ford CEO Jim Farley explains why Tesla's vertical integration strategy is everything and why it is difficult for legacy car companies to get the software right. "Even though it says Ford on the front, I need to go to Bosch to get permission to change their C-control software [in the car]", says Jim Farley, CEO Ford.
How to thrive in this interconnected age
The automotive industry's evolution toward integrated software solutions underscores a larger trend reshaping various sectors. The shift from standalone products to holistic, interconnected experiences is a defining characteristic of modern business landscapes, and its importance cannot be overstated. How can you seamlessly align with the demands of today's interconnected world?
End-to-end IoT solutions: Comprehensive IoT solutions will empower you to harness the potential of interconnected devices. Through customized ecosystems that seamlessly integrate devices, sensors, and data analytics, you can optimize operations, enrich customer experiences, and foster innovation.
Custom software platforms: Customized software platforms can be the key to unlocking new levels of operational efficiency and customer satisfaction for your business. Whether you seek to streamline processes, offer personalized experiences, or enhance productivity.
Digital strategy: Crafting a successful digital strategy is essential in today's business landscape. Our team of experts can guide you through the process, from market analysis to user experience design, ensuring that your digital initiatives are aligned with your business objectives and poised for success.
Contact us today to explore how our suite of services, including end-to-end IoT solutions, custom software platforms, and digital strategy consulting, can empower your business to thrive in this interconnected age.
In conclusion, Tesla's independent software integration has revolutionized the automotive industry, providing a cohesive and advanced driving experience. Their commitment to in-house software development sets them apart from traditional manufacturers relying on external solutions like Android Auto and Apple CarPlay. This vertical integration strategy has proven paramount in shaping the future of electric vehicles and software-driven features, giving Tesla a competitive edge and inspiring innovation in the industry.