A person's health is priceless, how can medical device companies turn rapidly changing technologies and user needs into new values.
Pouring more dollars into research and development (R&D) alone, is often not effective. Medical device companies should instead evaluate their traditional approach to innovate and search new strategies. That way they can look for new values and accommodate the challenges they are facing, such as:
Increasing regulatory complexities in global markets that are driving up costs and the risk of (expensive) compliance failure
Growing pressure on margins because of fierce competition
Rapidly emerging technologies that hard to keep up with
Smaller medical device manufacturers that traditionally drive innovation, but are now being joined in an increasingly crowded field
We believe that medical device companies need to embrace a MyInnovationFactory solution. This approach embeds more open innovation models, secures access to latest technology, pursues a data and service based business models. In addition it searches for more agile and multi-disciplinary (cross silo's) R&D and innovation approaches and installs an "Innovation Garage" or Fablab.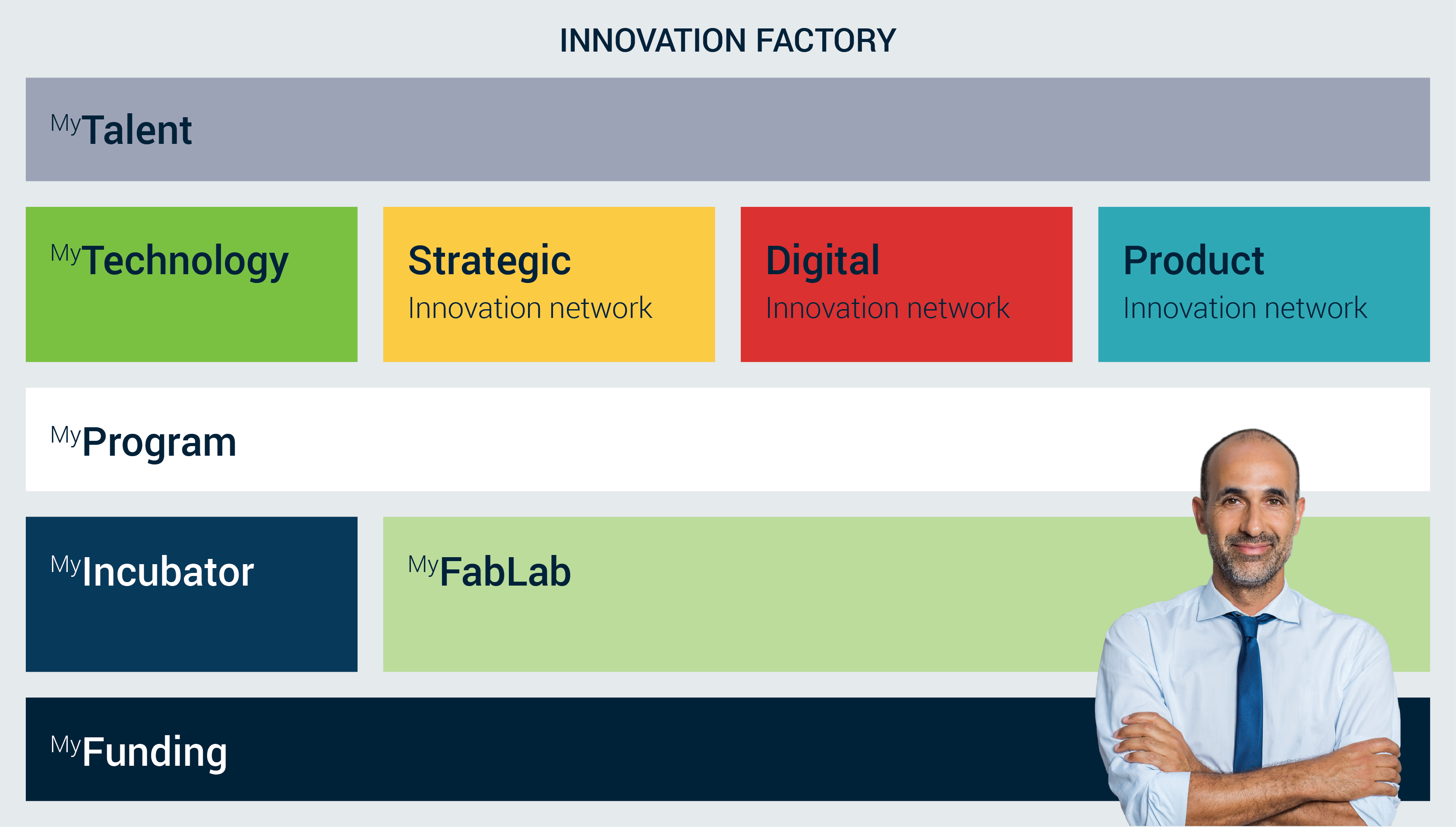 With profit margins being squeezed, improving efficiency in the R&D process is seen as the second biggest challenge. Knowing that the majority of MedTech devices companies are led by engineering or innovation, it even puts an even bigger burden on the organizational challenges to do more with less.
Conclusion
Consumer technology companies (e.g., Google, Apple, Amazon, Microsoft, and others) are becoming increasingly equipped to innovate through Class I devices (low risk to patients). This pushes the barrier for MedTech companies to innovate. In this situation, rather than focusing on incrementally improving their hardware products, we advise the MedTech companies to focus on using transformative technologies. Moreover, we recommend shifting from incremental to breakthrough innovation and implementing a much more agile method to innovate while embedding open innovation in their core.
Professionalizing the innovation organization for adjacent and disruptive innovations can be achieved with a double focus. On the one hand, companies can embed an agile culture of innovation. On the other hand they can start learning progressively from failures and setbacks through a KPI-based portfolio. This will allow them to make insightful pivots when either technology drawback or negative market feedback is captured. Professionalizing innovation will be a catalyst for MedTech companies to drive value capturing for adjacent or disruptive innovation when moving away from traditional pricing models.
The traditional superior devices type of innovation will now be changed by solution innovation (devices, data & services) aiming for personalized, better patient treatment and outcome. Using an agile approach allows you to set up operations to develop requirements iteratively, and learn continuously from every sprint on market, busines, user and technological tracks. It also allows companies to make corrections to develop products based on changing company goals and competitive insights. Complacency and the old speed is unlikely to be sufficient in this race to leverage data in the future of health.
Any questions on this post? Submit them below and we'll get back to you soon!