Trainings
Join a training or workshop to increase your innovation competences and skills. The training program is based on 3 tracks: innovation management, marketing & product management and R&D management. Or create a tailor-made training solution that meets the specific needs of your company.
Marketing & Product Management
Innovation Management
The foundation for growth and profitability? The capacity to systematically come up with new products and open new markets. Find out how to implement a result-driven innovation process during our Innovation Management trainings.
Training
Learn to generate new ideas, evaluate them and develop sustainable breakthrough concepts in an effective way.

Training
Discover how to set up, plan and organize breakthrough innovation projects.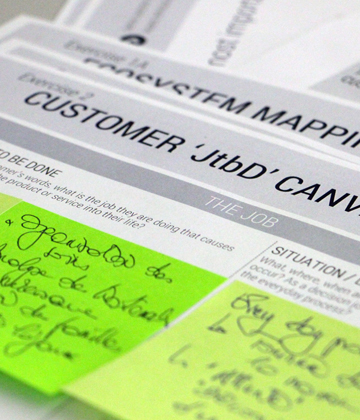 Marketing & Product Management
Having the right idea is one thing. Turning it into a success is something else. In our Marketing and Product Management track you learn how to create and capture added value, from idea to launching new products.
In-company training
With this fast-track program you'll be coached towards a valuable business case that's ready to be introduced to your company!

Training
'Exploratory research to understand users' needs'
Get a holistic understanding of who your customers are and how your market approach and offering can be aligned with their needs and behavior.
Training
'Think business, think different'
Business design is a creative process used to create different earning models, better services and improved access to your value proposition.
R&D Management
Because Research & Development represents a significant challenge in innovation, tools and processes need to be used effectively. With our R&D training we offer you insights and tools to manage product performance, timing, cost, innovatory and risk.
Training
Find out how to secure creative engineering in advanced technical product environments.

Training
Discover new tools for your development projects in this advanced practitioner's course.

Training
This training illustrates a global framework with real-life cases of different risk management tools for your innovation track.

Upskill & motivate your team
You can organize our trainings as a corporate program in your organization. Together we will create a unique training solution that meets the specific needs of your company.
Verhaert's Innovation Academy inspires, connects and trains innovation professionals to become master in innovation. The program and its publications are open to our ecosystems, customers and employees.
MyStartUp acceleration programs are based on Verhaert's proprietary innovation methodology RICE.