Breakfast session: Prototyping vs Pretotyping
No, it's not a typo. Pretotyping is an innovation practice with which you market-test new ideas quickly and inexpensively. In our opinion, you should have started applying it yesterday! During this two hour breakfast session we invite you for a nice breakfast and and an explanation on why pretotyping could help you develop the right solution for your customers. Join us on 5 June in Utrecht to learn the what, why and how of pretotyping.

Early stage market validation methodology
You probably know prototyping as a widely accepted practice to technically de-risk an innovative idea. But have you heard from the term pretotyping'? Many innovation professionals have not, and honestly speaking, you should have. That's why we decided to organize a brief introduction into the practice of pretotyping on 5 June in the Social Impact Factory, Utrecht (NL).

What is pretotyping
Pretotyping is about bringing an innovation project into 'the sweet spot of innovation', where usability, feasibility & viability cross. It's about simulating the core experience (usability) of a potential product or service with minimal time and resources to validate market interest (desirability) and actual use (utility).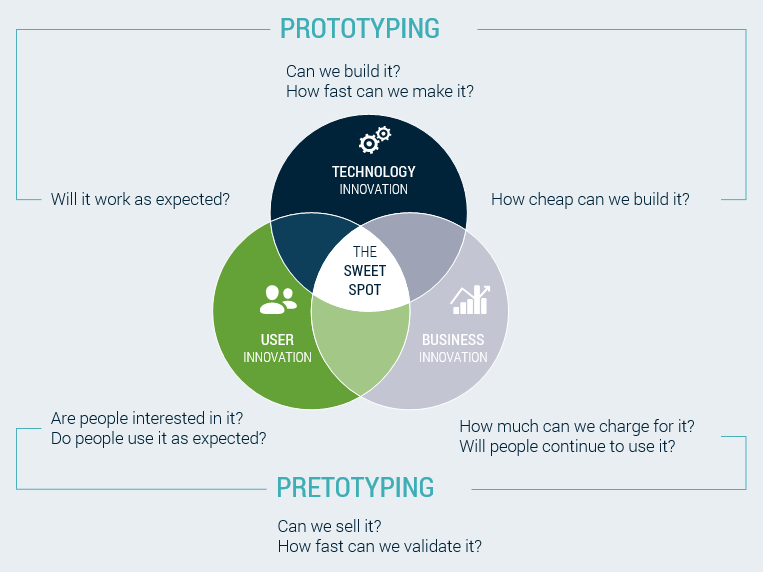 As a term, it was invented by Google's first Director of Engineering Alberto Savoia. He has been teaching the topic since 2011, and wrote a book about it in 2019 called 'the right it'. It's a highly recommended read that explains not only the why, but also the how & what of pretotyping in great detail and with lots of examples.
Pretotyping has always been the cornerstone of our existence as an integrated product development & innovation agency. During this breakfast session we want to explain to you why should be doing it, as well.

When and where?
Learn more about our tools, techniques & first hand experiences with pretotyping over delicious croissants and a hot cup of coffee or tea. Join us for the breakfast session:
on Friday 5 June from 8h30 until 10h
at the Social Impact Factory, Vredenburg 40, Utrecht

Register now!
Fill out the contact form below to register for the breakfast session on pretotyping.