By involving the necessary disciplines from the beginning of a project, you create synergy to manage your project more effectively. A multidisciplinary team of engineers and designers supported Trinean with the redesign of an existing spectrophotometer.
Bridging skill sets in a streamlined process
In a traditional development environment, we see companies managing several disciplines in parallel and then integrate them on a higher level. However, by bringing together the experts in a project team, you increase dynamics and efficiency.
Taking into account the composition of your team already starts at the beginning of a project. Primarily when you define the system architecture based on specific product requirements, such as volume, weight, speed, reliability, reuse of existing components … Then you already get an overview of the necessary disciplines.
For the redesign of Trinean's UV/VIS reader we perfectly aligned the collaboration between mechanics, electronics, optics, software and design. This enabled us to optimize their existing plate reader and – above all – simplify the entire design.
Back to purity and simplicity
To speed up research automation, Trinean was looking to improve their existing UV/VIS reader. During the thorough exploration of the current reader's core, we focused on simplification, performance and speed. For the optical design, we appealed to the expertise of our colleagues from Lambda-X (members of Masters in Innovation, the umbrella brand of the Verhaert Group).
It is complex to make things simple. Reducing the number of optical systems but increasing the speed at the same time, has a high impact on electronics and software. Therefore, it is very efficient to have an expert in the team of each discipline. Together with the R&D team of Trinean, we created outperforming features to boost performance, efficiency and precision.
As Trinean always strives to develop high-quality instruments, the design aspect has been important from the beginning. The design objective was to evoke an impression of high accuracy and reliability at first glance. Combined with some distinctive elegance in the details and signature elements, the result is an almost iconic design of this precision instrument. The DropSense 96 is superior to any other droplet UV/VIS reader currently on the market.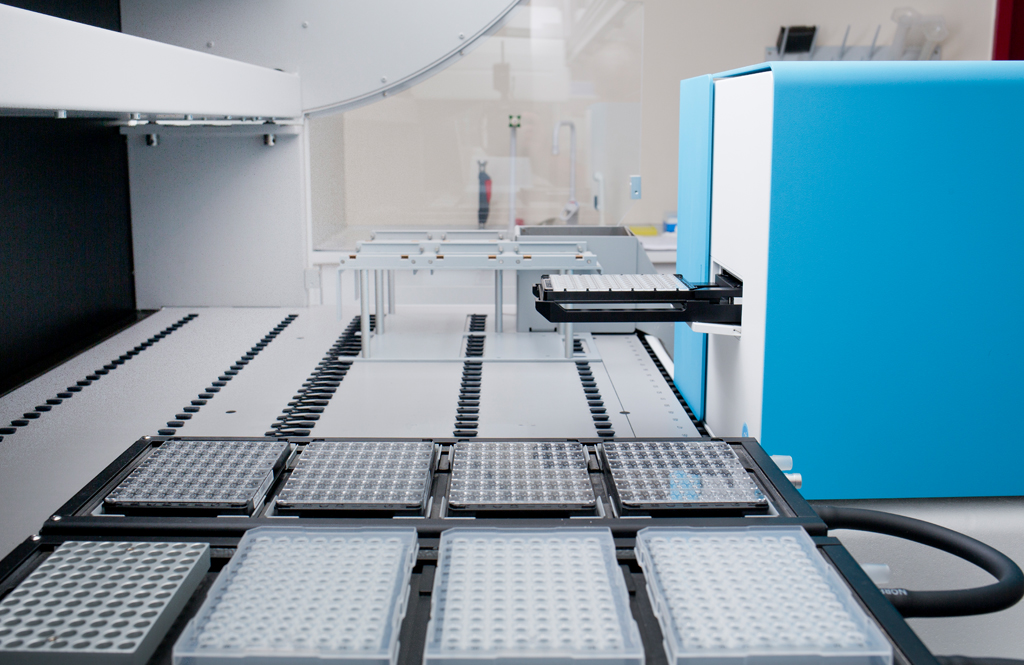 Microfluidic spectrophotometry platforms
Trinean is a Belgium based technology provider, developing innovative bio-sample QC platforms by combining microfluidics with best-in-class analytical software and highly standardized read-out platforms. They provide the life science industry and diagnostic labs with tailored QC tools shortening the sample turnaround time and minimizing the need for costly sample retesting.
Founded in 2006 as a spin-out of the Ghent University, Belgium and Imec Leuven, Belgium, the company commercializes the DropSense technology for high-speed biomolecule quantification and contamination analysis. Until today, more than 1000 DropSense platforms have been installed globally analyzing more than 30 million biological samples.
| | |
| --- | --- |
| Idea | Redesign of an existing spectrophotometer for higher performance and improved features to make it superior to any other droplet UV/VIS reader currently on the market. |
| Challenge | Managing a complex innovation project efficiently. Dreaming of outperforming features is one thing, but managing risk and cost simultaneously is crucial to end up with a meaningful, reliable and affordable product. |
| Answer | Involving and engaging a wide multidisciplinary team of engineers, marketers and designers straight from the beginning. A holistic project management needs to keep an eye on the balance across all disciplines to avoid that only technology drives the project. |