The digital era has reshaped customer expectations, demanding innovative products and services that provide tangible value. Join Verhaert Digital Innovation's seminar 'AI-infused innovation' on September 12th in Westerlo about gaining a competitive advantage with AI. Together with expert innovators like Jeroen Baert, imec and BNP Paribas Fortis, you'll redefine your understanding of the technology and its vast array of opportunities.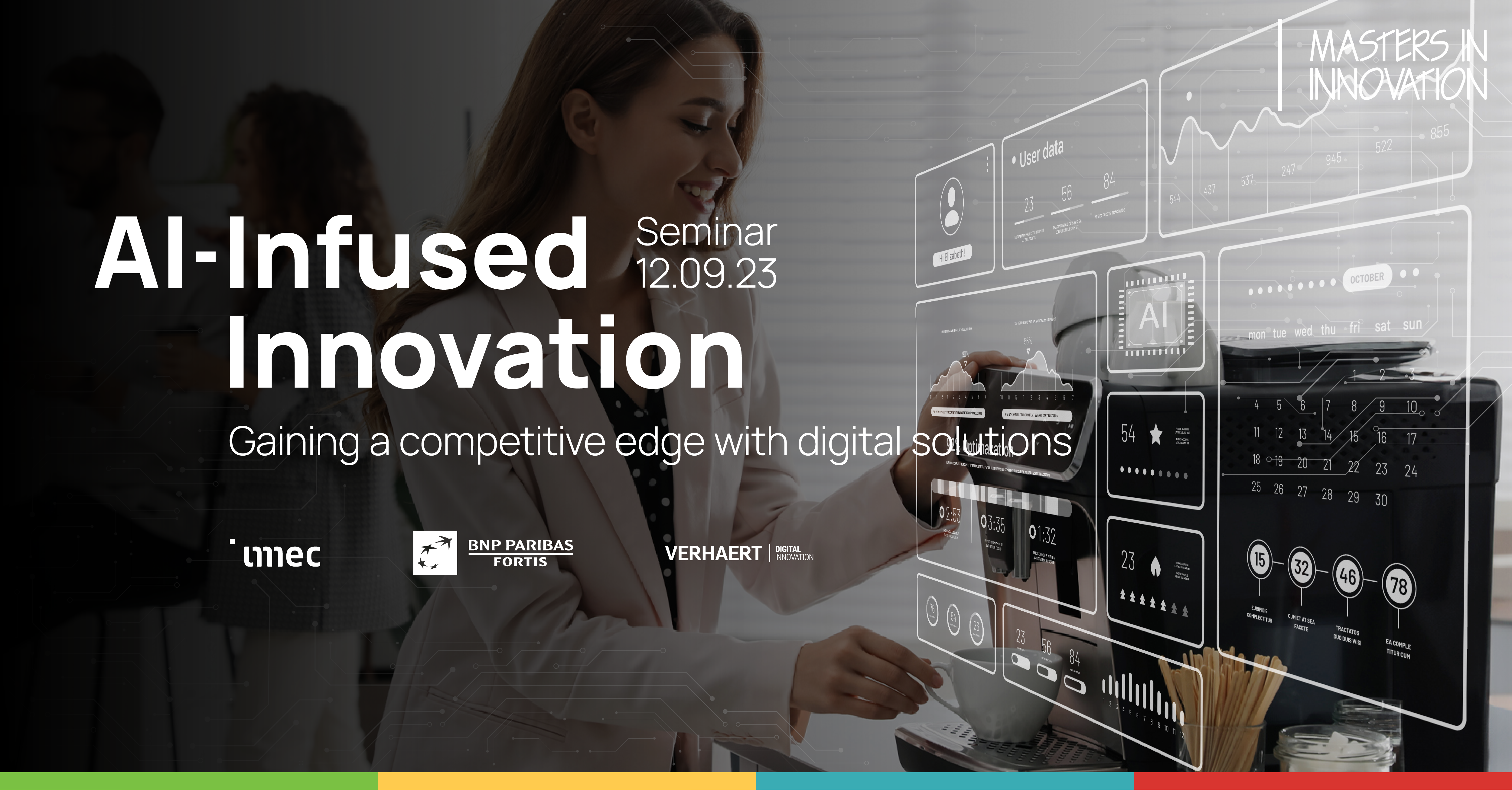 Rapidly-evolving innovation landscape
As technology continues to evolve, customer preferences shift, and market demands change, staying ahead of the competition has become more complex than ever. And while many companies are already embracing the efficiency gains through AI, like ChatGPT and LLMs, it won't give you a true competitive edge. You have to find growth avenues beyond productivity that genuinely revolutionize your products and services. So how do you push the boundaries of innovation with digital solutions?
AI beyond productivity gains
While increasing efficiency is important, AI's capabilities extend to various other domains and present exciting opportunities for transformative change. From autonomous systems and personalization to energy optimization and product improvements. By leveraging AI's capabilities, you can foster continuous improvement and innovation to stay at the forefront of your industry. During the 'AI-infused innovation' seminar, you'll gain insights from Jeroen Baert, imec, BNP Paribas Fortis and Verhaert Digital innovation on how to successfully revolutionize your business with AI:
9h00 – Event introduction
9h30 – Navigating the AI playground (Jeroen Baert)
10h00 – Cracking the AI code (Verhaert Digital Innovation)
10h30 – Advancing AI horizons (imec)
11h00 – Maximizing the AI potential (BNP Paribas Fortis)
11h30 – Walking lunch networking
Interested in the AI-infused innovation seminar on September 12th in Westerlo? Visit the event page to register or find more information about the sessions.