How do you create and launch a digital product that makes difference in people's lives? How do you stand out in the already saturated market? Brainstorm how to solve your challenges during our AIoT Talks with peers in AI and IoT. Join experts from Henkel, TK Home Solutions, Pegus Digital and Verhaert on Thursday June 23rd to grow your IoT projects.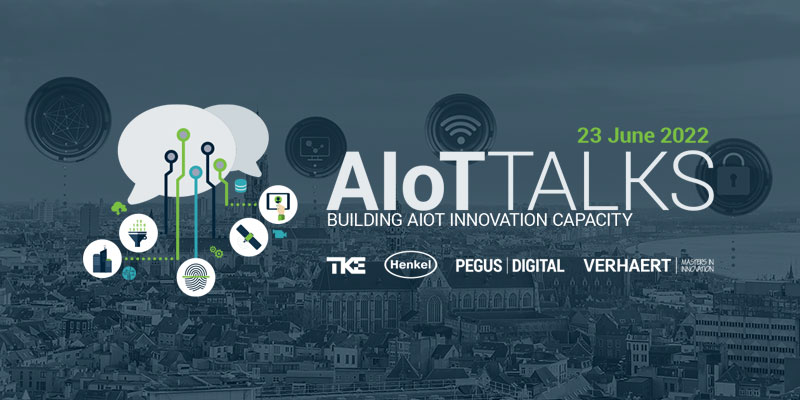 Designing products that make a difference
To launch a valuable IoT product or service successfully, you have to jump through a lot of hoops. During our keynote sessions you'll gain key insights on learnings, pitfalls and strategies from Henkel and TK Home Solutions to fast-track your development.
Our first keynote from TK Home Solutions will focus on the importance of including user and business insights in the development process. By aligning their needs with your technical features, you can deliver a solution that truly adds value to your customer.
The keynote from Henkel will shed light on how to overcome the technical challenges of bringing a connected product on the market. Once you've successfully defined and set up a prototype, there's many hurdles to get it into mass production.
Solving your AIoT challenges
With new technologies come new challenges. During our breakout sessions you'll get the chance to discuss your current challenges in developing IoT products and services. Get inspired and learn from peers within the IoT landscape such as Verhaert and Pegus Digital. To make sure everyone can pose their questions, we've grouped 6 recurring topics that can hinder a successful smart product:
IoT security
IoT AI & data analytics
IoT architecture & infrastructure
IoT communications
IoT sensors & embedded computing
IoT visualization & dashboarding
Interested in attending the 'AIoT Talks'? Visit the event page to register or find more information about the keynotes and breakout sessions.