Projects at Moebius Consulting focuses on user and mechanical product design within the project office of the Masters in Innovation group. Projects are executed in a small scaled work package format, specifically targeted to small and medium enterprises. 
Do you like a no-nonsense, agile and flexible approach? Moebius Consulting has a specific method of failing cheap and learning fast in the project. Projects at Moebius Consulting will soon be executed by the Verhaert brand. In this lab we understand your specific needs to move forward fast and have quick use case testing. We assign a lean team of designers supported by a senior coordinator. Together they think along with you in every phase and define ways to go further with a can-do attitude in a close collaboration.
If necessary, projects are supported by experts from Verhaert's different labs:
We hope our expertise in mechanical product design will help you in your fast paced innovation objectives. Our vision? We give our engineers a variety of projects in various domains, and we will get driven, committed experts. With this committed team we like to serve you in the future.
Below you'll find 4 projects to illustrate our expertise and inspire you to innovate.
Water-trap innovation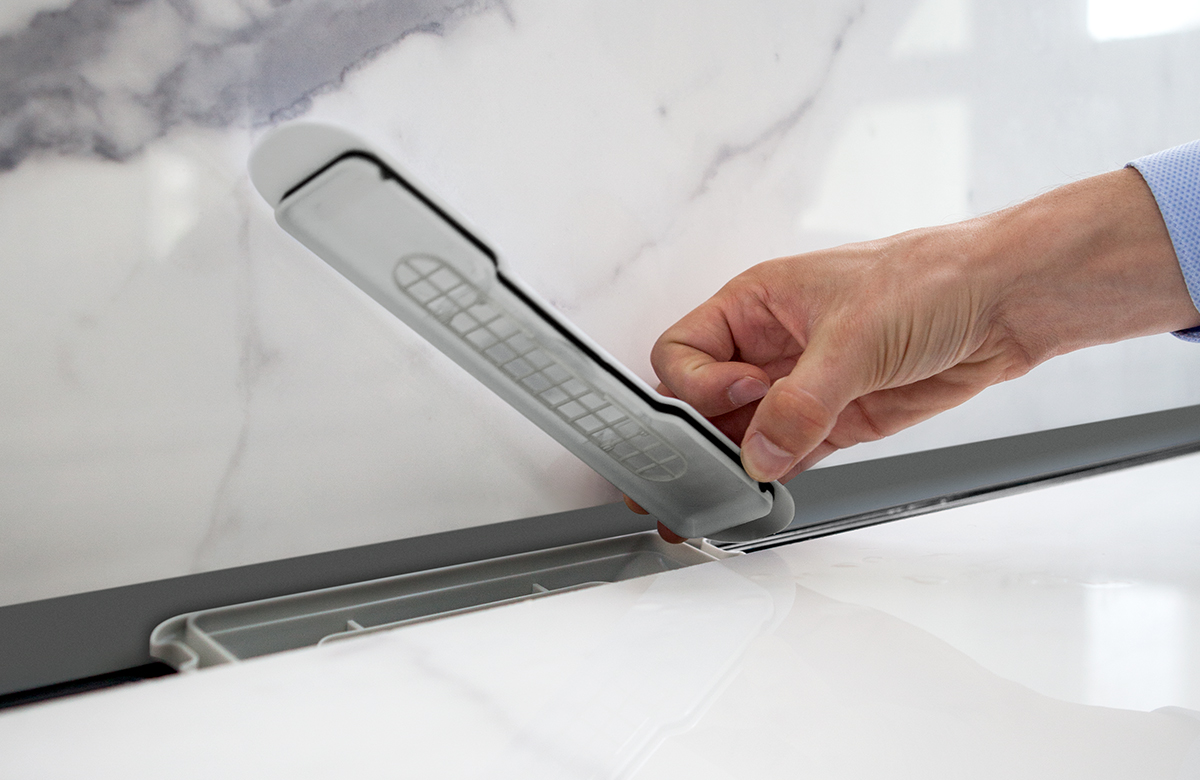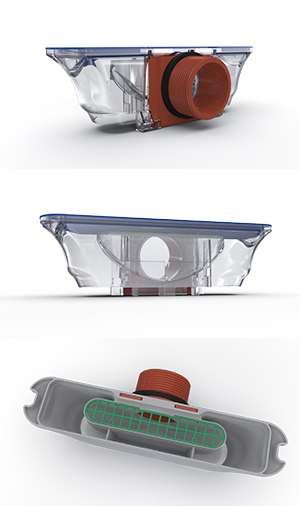 The i-Drain, a low-profile patented water-trap for showers and sinks, developed by Group Nivelles, was in need of an innovation.
We pinpointed the main issues, analyzed the root cause and found that most of the problems could be eliminated by combining the two current plastic cups into one. This bright idea also optimized the watertight sealing: instead of only one vertical sliding we introduced a second directional slide and push movement.
Although it was expected to be impossible to mould, thanks to our extensive knowledge of 3D-modelling and injection moulding we achieved a first time right mouldable product. On top, the solution introduced extra ergonomic advantages in the ease of cleaning the water trap.
Our extensive knowledge of 3D-modelling and injection moulding was applied to achieve a first time right mouldable product.
– Piet Tuts, Coordinator Moebius Consulting Masters in Innovation
We added value to the new i-Drain by simplifying mounting and dismounting from the sink and bringing the ease of cleaning to a higher level within a design with reduced complexity and optimized amount of parts. Furthermore, we achieved a much higher flow and evaporation rate, and improved the negative pressure, which was proven and fine-tuned by extensive testing.
Developing a semi-automatic turnbuckle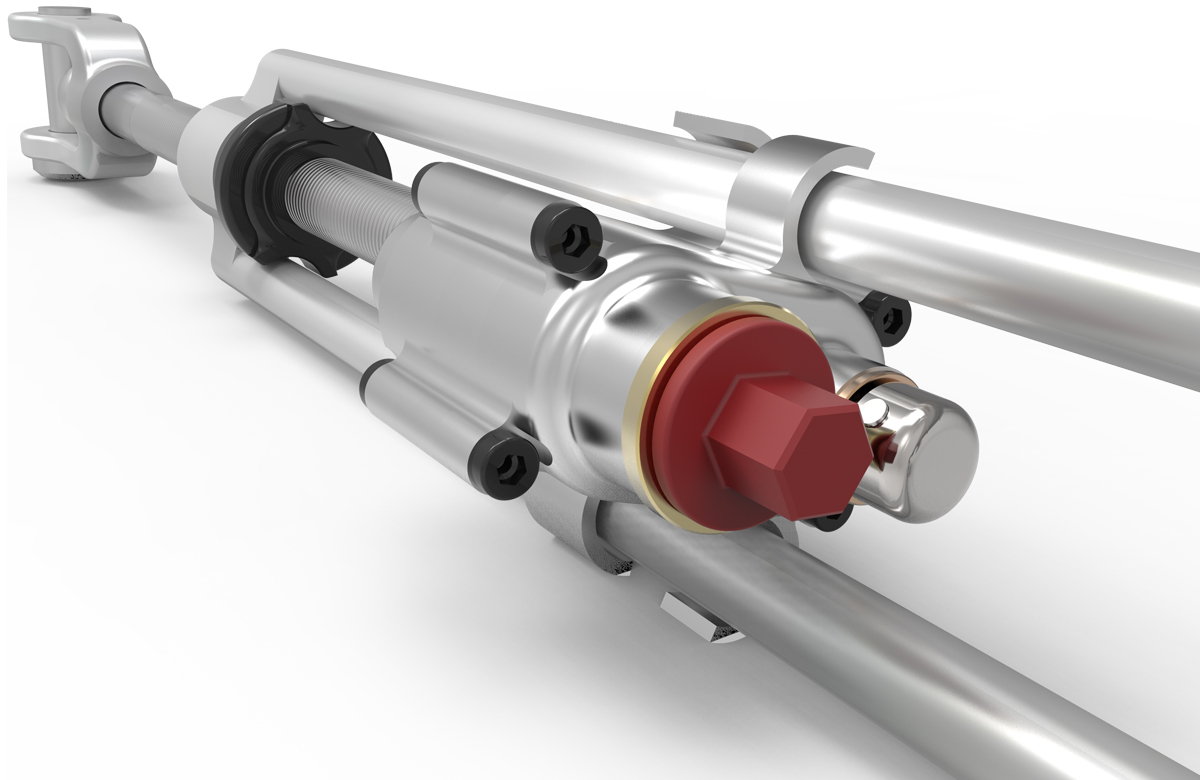 Every day, millions of containers are loaded and unloaded worldwide from container vessels. Our client PSA Antwerp operates 3 container terminals in the port of Antwerp where every year 10 million twenty foot containers are handled.
When the vessels sail out to sea, two support systems are used to ensure all containers on deck are secured: twistlocks and a system of rods and turnbuckles to lash the containers to the deck. Lashing containers is a dangerous and labor-intensive job with a lot of injuries to wrists and elbows.
PSA Antwerp decided to tackle this problem and set up an innovation project with Moebius Consulting to re-evaluate the approach of lashing. By developing a new type of turnbuckle PSA desires to lower the injuries and fasten the process of lashing.

This project had the perfect ingredients to show the design abilities of the Moebius Consulting team. Their abilities to generate great concepts agile and swiftly in a limited timeframe, led to a worldwide innovation and patent for PSA.
– Piet Tuts, Coordinator Moebius Consulting Masters in Innovation
The newly developed turnbuckle has a retro-fit that consists of a switch that can change between automatic and manual rotation. For PSA Antwerp, it became immediately clear that this innovation offers great potential, not only for PSA but for an industry-wide use! PSA applied for a worldwide patent application to protect this innovation.
Decapo table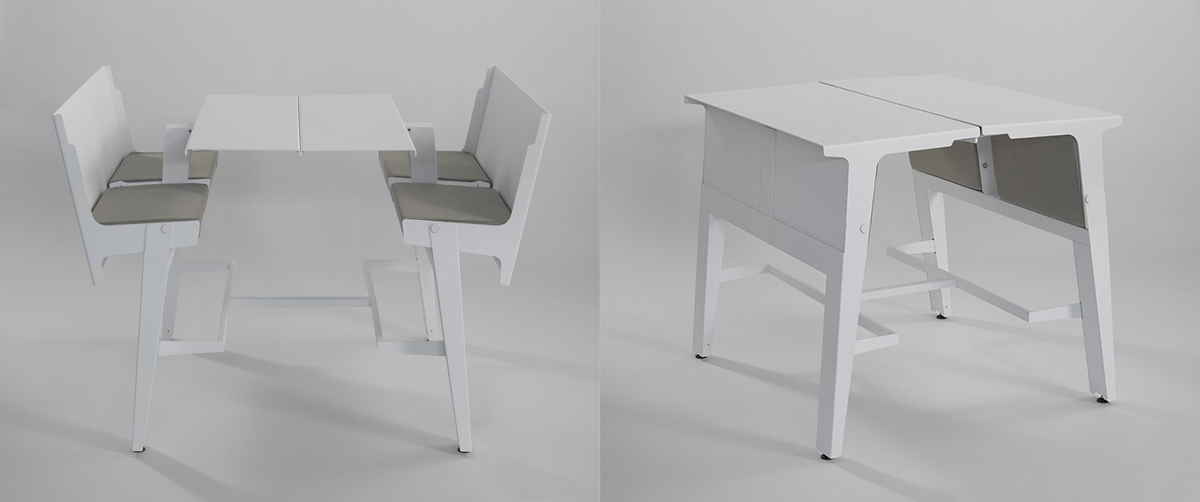 Architect Bert Masselus (MASS-A) created the concept of the Decapo-Table: an ingenious reception table. In a blink of an eye the table turns into a dining table offering four comfortable seats. The product is inspired by the work of architect and design icon Jean Prouvé and hides an intense and thoughtful design process.
The complex interaction of aesthetics, technical visibility, ergonomics, structural rigidity, the influence of the center of gravity in open position and the total weight was a difficult balancing act for the industrial design engineer at Moebius Consulting.
After several digital designs, ergonomic mock-ups and structural prototypes, the successful collaboration between Moebius Consulting, Bert Masselus and metal construction company Lessage led to a powder-coated construction combining stainless steel and aluminum. Keeping in mind the production of small series, it was designed within a predefined budget.
The result is a sleek-looking table with both indoor and outdoor applications. Its versatility makes it suitable for receptions, business lunches or a quick stand-up meeting, but also for a relaxing garden dinner. The DeCapo-Table was launched at the Biennale Interieur 2016.
Housing sensor unit
The young Belgian high-tech start-up iQunet develops IoT solutions to address the limits for wireless battery-operated sensor networks.
Their team has experience in techniques such as electronic (chip) design, radio frequency technology and signal processing. iQunet developed a series of wireless sensor units to monitor all kind of environmental factors real-time in a machine park.
Do you have a project with high demands? Looking for motivated people with the right knowledge? Collaborate with Moebius Consulting and Verhaert.
– Barbara Willems, R&D Manager iQunet
For this technology we developed a compact waterproof housing in which iQunet's technological know-how is fully protected. We also provided support in the development of the PCB layout in order to obtain a housing that is as compact as possible. We took out every square millimeter that was not used effectively to have the slimmest size possible.
The result is a production-friendly housing that allows all kinds of PCBs from iQunet, filled with PUR against any humidity and moisture ingress. In this way we achieved the intended water tightness, and simultaneously the technology and design know-how could be protected.
---
Download the perspective
---
Moebius Consulting is member of Masters in Innovation, a pioneering product innovation group and umbrella brand of the Verhaert group.