Wit-Gele Kruis West Flanders is committed to delivering high-quality care to patients in their own environment. To optimize the logistics of medical equipment for nurses, they're launching a handy all-in-the-box car organizer. An idea originally conceived by a home care nurse and further developed with professional partners including Verhaert Masters in Innovation, a European service provider in innovation. Thanks to its innovative approach, Verhaert succeeded in identifying important, unprecedented facets related to the various stakeholders. This included going deeper into essential steps in the design process and taking into account current requirements for circularity.

Cooperation as a driving force for innovation, inside and outside the organization
Wit-Gele Kruis West Flanders believes it's important that innovation stays close to the day-to-day lives of its nurses and helps to relieve them. The idea of a nurse to develop a new organizer that is orderly, practical, and hygienic was picked up by the organization. Through an intensive process, the idea was further developed in collaboration with a master's student in product development, MakerHealth Howest and Verhaert, among others.
The secret of successful innovation: a holistic approach
Creating products that meet the users' needs, desires, and requirements, is valued highly at Verhaert. An extensive analysis of the needs of home nurses is therefore an important part of the development process. Structured workshops were organized with stakeholders from various domains to identify in detail both user needs and logistical and financial considerations during the design phase.
After an iterative validation phase of several prototypes, Verhaert proceeded to product engineering, optimizing the final production design. By considering technical, production-related, and user aspects, Verhaert ensured technical feasibility (viable) as well as successful fulfillment of users' needs and desires (desirable). The organizer provides functional and ergonomically access to any type of care product and can be integrated with the nursing bag, making it the most practical and complete solution on the market.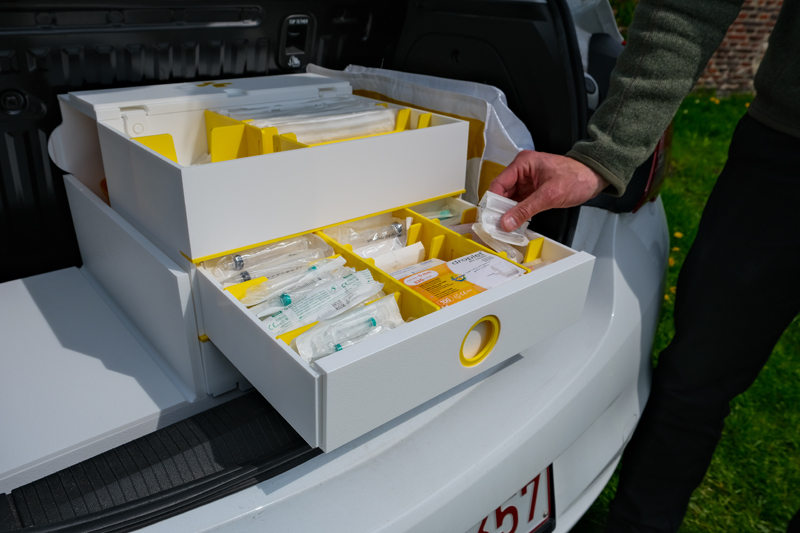 A circular life cycle
The demand for environmental awareness is increasing day by day. Sustainability and ecology are important drivers in the product development process. The all-in-the-box offers an efficient storage solution design with a circular business model in mind. The product is fully geared toward circularity, with opportunities for refurbishment and 100% recycling. The organizer is made of mono-material, making recycling at end-of-life simple and feasible. Polypropylene with a closed cell structure, also offers durability and robustness with significantly less weight. In addition, flatpack delivery on a euro pallet minimizes fuel consumption and reduces CO2 emissions. Production is also set up with attention to the inclusion of social employment.
Innovative healthcare logistics gains a new dimension
The all-in-the-box solution optimizes the logistics process and reduces costs by limiting expired materials. Nurses are pleased too, as this solution allows them to focus more on patient care. This innovation extends to the broader healthcare sector, where, upon positive validation, the product can be made available to other (home) care organizations.
"The real added value of this development was born from our co-creative workshops. Each stakeholder, whether it was the care provider, logistics department, or financial services, provided unique contributions from their expertise. Thanks to this iterative approach with the integration of concept and prototype validation, we were able to put all the pieces of the puzzle together smoothly," says Gerd Van Cauteren, Coordinator DesignLab at Verhaert Masters in Innovation.