Together we'll support you in transforming your industry, easing new innovation paths, achieving more with less efforts and attaining faster time-to-market. Eventually it comes down to aiming at 2 horizons: a technology and innovation horizon. Combining any of the possibilities will make you more effective in successful innovations in IoT.
Technology horizon: prepare the future of products
Last year we turned numerous technologies into demonstrators for Internet of Things (IoT) applications to evaluate its possibilities. These IoT demonstrators focus on the digital transformation of your products and services, creating new functionalities and user interactions.
Creating collective intelligence. We used multiple car sensors from many vehicles in combination with a data feed of weather forecasts. It enabled us to predict real-time weather road conditions by using self learning probabilistic models with spatial and temporal distributions. The result? Location based augmented weather maps, created in real-time. The maps are available in every car, at every location. Based on the local weather information, they can take safety actions: reduce speed, warn for slippery, switch fog lights, change navigation etc. We see interesting applications in, among other things, agricultural vehicles and heavy duty construction machinery equipped with sensors for crop presence, crop quality, excavation duty or precision information, payloads weight, etc.
Creating highly aspheric optics for low cost sensors. We prototyped custom designed wafer optics in an optical lens stack design with highly aspheric surfaces. This production technique is typically used to create cost effective optics for mobile phones, but then the optics has been designed for other applications. We realized a technology demonstrator with a high resolution (ca. 20 μm), large field of view (FOV diagram = ca. 90°), large depth of field (DOF = 3-14 mm) and low distortion (below 5%). This deadlock situation needed to be resolved: the high resolution was in contradiction with the large depth of field (since the spatial resolution improves with increasing numerical aperture while the DOF degrades with increasing numerical aperture). The desired characteristics of the optical system were inconsistent with each other from an imaging science point of view. Therefore they were difficult to satisfy within one optical system. But we realized a demonstrator coming real close to what's possible.
We became MFi (Made for iPhone/iPod/iPad) certified to develop hard- and software meeting Apple specific design rules in order to communicate with Apple devices. As a result Verhaert has not only access to the technical specifications and sample quantities of licensed components, but also to Apple's development tools and technical assistance to support your product development projects.
Amazon Alexa is a real innovation enabler. We noticed a tremendous increase in use-of-voice-controlled assistants as the offered convenience has already faced down conservatism. Alexa is a new layer that makes your device machine UI (or part of it) not only obsolete but also smarter since Alexa takes over your operator tasks. It serves as one generic interface controlling a distributed set of connected machines. Alexa doesn't only manage your schedule, arrival and departure time and databases, but it also takes appropriate actions. Verhaert used Alexa on a custom PCB hardware for a new home device. We configured Alexa in order to manage new interactions different from today's MMI (Multi Media Interface) models, creating new possibilities depending on the dialogue, integrating several other devices in one conversation and controlling them all.
What else is coming up later this year?
Realizing a first LTE-M and NB-IOT technology platform to connect any product. LTE-M (3GPP Release 13) might set a new standard, impacting LoRa and SigFox networks heavily. Providers are busy upgrading their networks to the latest technology and soon will guarantee 100% coverage worldwide. With a fall back to the precursor data-channels of the GSM-network, it will enable the world's first mobile Smart Autonomous Sensor Systems. We're ready to deliver a module and custom antenna design, our knowledge will serve any request.
Mid-air Haptic Ultrasound interface. New interfaces define the winners in a lot of applications. New use case design leads to a better way of interaction accommodating in the context of f.e. driving a car or surgical handling in an operation room. Voice User Interfaces will help, but still leave the user with a nostalgic feeling for feedback. Therefore Verhaert built a demonstrator of a mid-air haptic interface to deliver the next generation of user interaction. This new haptic interface feels like you touch a button in the air, just like real.
Artificial Intelligence (AI) in healthcare to assess blood pressure from photoplethysmogram (PPG) signal. From a noisy PPG we'll able to estimate blood pressure to quantify hypertension levels. For this we need a lot of datasets (expert labelled), which are much easier when they are available in databases than they must be measured newly on patients. We evaluated different online sources (Mimic.physionet.org, Archive.ics.uci.edu, Catalog.data.gov, Capnobase.org, Kaggle.com, etc.) Although none were a perfect fit for the project goal, it allowed us to start prototyping the deep learning algorithms much faster and use transfer learning techniques to solve the problem.
Innovation horizon: add features to capture the value
Research over the past year identified that in order to make digital transformation a success, you have to connect technologies with the creation of new businesses or the disruption of your existing business. Just don't stop with connecting the sensors or device to the cloud. The technologist's mistake is often to stop there. Therefore we added this second horizon to help you defining features on how buyers and users can capture the value of it.
How to design new value into a product? Your business might be in the situation from eroding. Often it's not the cost of the product that's the problem, but the value that it's not well conceived. Features that don't carry user appreciation don't contribute to the willingness to pay. What are the alternative options at that moment? Instead of choosing for a design to cost or modularization project, you might consider a value design exercise.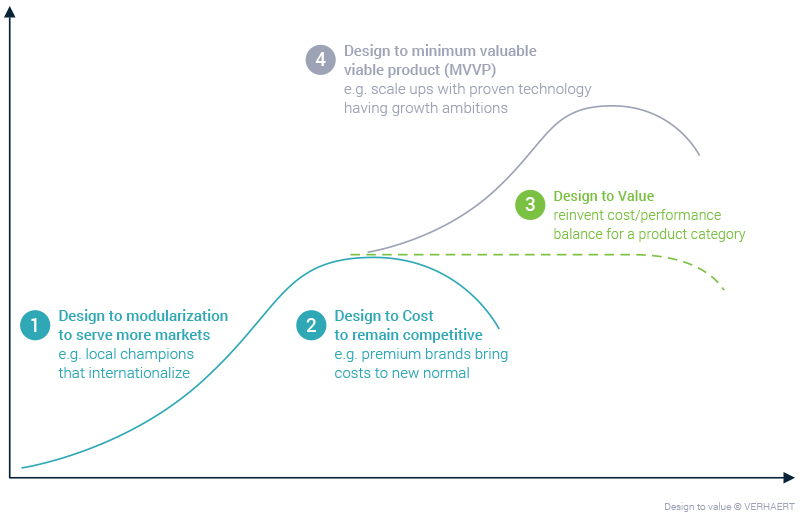 Redesign your product to deliver a new value/cost ratio and extend the current product life cycle. F.e. revisit the combination of features (incl. new features) that customers really value and get rid of the unvalued ones. This off course leads to developing a new product which is combinable with a drastic design to cost exercise.
Extend your current product and build an 'add-on' (MVVP) with a separate value yet creating a combined new value proposition on top of the existing one. When you aim at a digital interface for your product, you might add regularly new software features to keep adding value.
Detecting what features or feature combinations are being adopted is a precarious exercise. Some rules for selection, we'd use:
Is it a minimal sized set? Can a feature be skipped without reducing the value perception under an acceptable level? Shall it capture the attention of early adopters? Yet it isn't too minimal in order to be still unique enough?
Is it a viable set of features/viable product? Within this combination there's no basic prerequisite feature missing in order to compete, to be utile?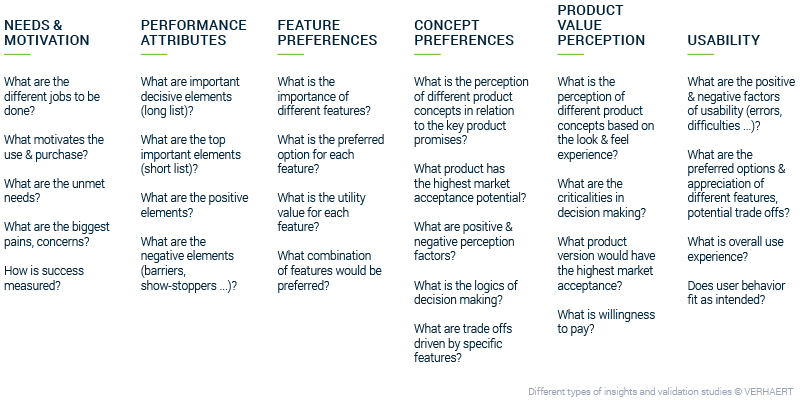 Did you consider the 'whole product'? Adding a layer such as digital is a unique way to enhance your product with functionalities or reach out to a new target group. You could even allow third parties to start developing and offering their proper layer. But the aim of these layers should be to address multiple applications (one per target group) and the needs of the early and late majority. By identifying additional features added on top of the initial MVP, one aims at crossing the chasm and hence reaching a larger audience and target group.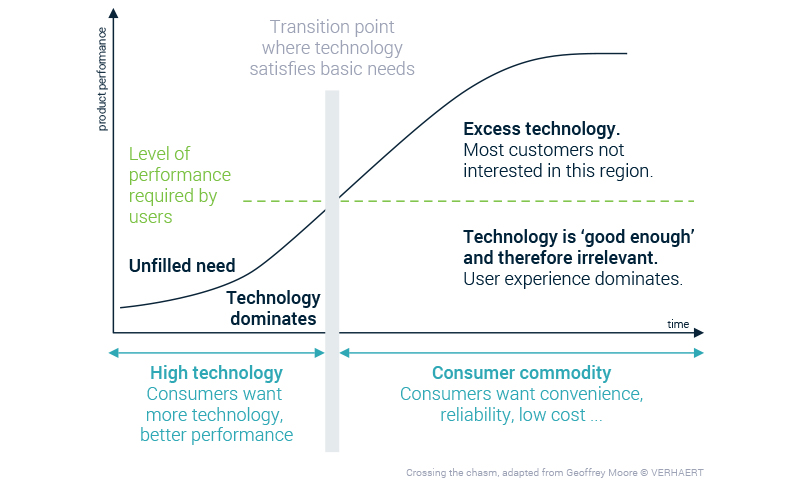 Design for behavioral change. The world is changing rapidly. Current products on the market aren't helping users to adapt and change their behavior to the world around us. If you want your products to help your users and customers with this change, you'd better implement nudging features into product concepts. People can be very reluctant to change practice, even if there's evidence saying that they should. However some of the primary barriers to adopt technology are time, usefulness and complexity.

Let's resume a clear objective we could and should try to achieve with this focus on implementing nudging features.
A company needs to focus on highly appreciated features to create highest user adoption as possible. You can differentiate by being the first in the market that addresses latent user needs, but are your customers also ready to change their current practice? In order to accommodate your customer to the new use, those new functions, you'd better help them to change. Design for behavior will be a promising way to address societal challenges, so keep tuned. For technological enterprises changing consumer behavior is number 4 priority according to a PWC market research!
2018 will probably be remembered as the year when data driven business clearly emerged beyond the stock performance of the incumbent companies. When looking to the Plattform-Index it's clear that platform business is an interesting business model outperforming the rest of the market. Transforming the current business model into a digital version and developing a platform to attain maximal customer lifetime value should be a board priority. But in order to do so, internal processes, services and products need to be transformed.

Combine horizons: achieve more
IoT is there to stay, so you should give it a high priority in your innovation strategy. Developing products today, doesn't mean products of today, but products of the future.
Rule 1: It's all about envisaging 'use' for the digital era to come. Deploying the newest technologies to develop new functions and evaluate how they make products more useful or desirable, will help you to create options of tomorrow.
Rule 2: Developing products without a clearer strategic goal of what one wants to achieve, is predominant to get focus, secure ambitions and well consider risks.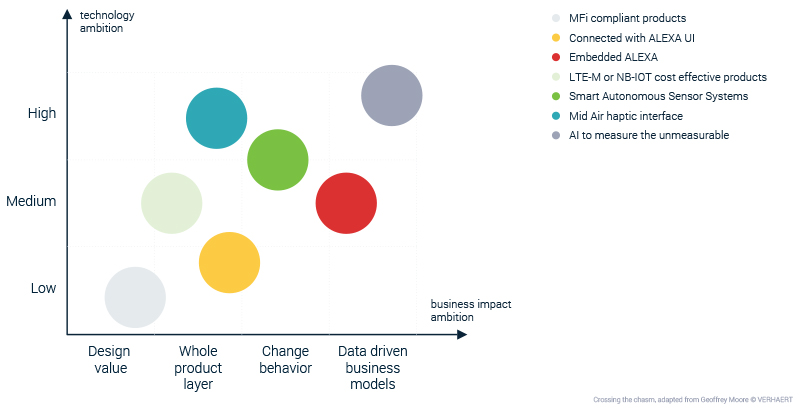 ---
Download the perspective