Demonstrators & prototypes
Demonstrators and prototypes are essential in every step of the product development process. Whether you want to verify your design or test form, fit and function, you need them every step of the way.
System design
System design services cover several specialist disciplines such as hydraulics, acoustics, thermal, mechatronics, control loop, algorithms/mathematics. System level services consist of creating boundaries and interfaces descriptions by generating functional descriptions of the design, block schematic representations to illustrate the subsystem interactions, functions and constraints of each subsystem. Detailed design, on the other hand, consists of dimensioning on the system level and selecting individual components or subsystems and custom-made interconnections.
Product concept design
Verhaert stands out in generating concepts for both new products and services. Furthermore, we are skilled in finding new ways to achieve difficult requirements and help your teams realize their innovation objectives. Within our proven divergent-convergent concept generation process, we develop numerous ideas to analyze, evolve and refine. Ultimately, a small number of concepts is selected for detailed feasibility testing.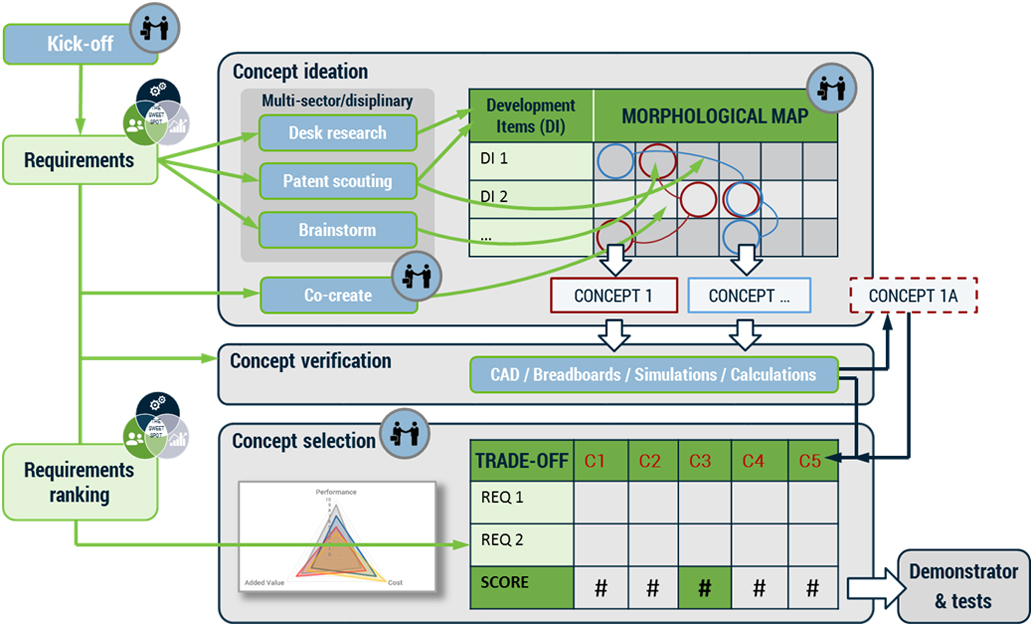 Detailed design
Design-to-Cost
A smart definition of modular architectures has a huge impact on the economy of scale at component level. Moreover, working with standardized components reduces your development cost, inventory and time to market. So to speak, you should trade-off this advantages to the power of purpose dedicated optimizations. During this complicated evaluations you should bear in mind the increasing complexity of the design and cost related to mechanics, electronics, optics, interfaces etc.
Design for manufacturing & assembly
Innovation is typically fueled with new technologies. Verhaert supports you to develop technology demonstrators, select and evaluate new technologies for customer applications, hence demonstrate feasibility. In collaborative R&D programs we bridge the gap from laboratory concepts to reliable and scalable technology platforms.
Design for testing
Demonstrating feasibility is just the beginning. Designers and engineers have to implement all business and application related requirements into a user centered approach. Parallel tracks develop mechanics, electronics etc. The evaluation of different product concepts result in prototypes for initial market exploration. Special attention is given to the design of housings and cabinets to maximize usability and user experience.
Rapid prototyping
Rapid prototype models represent the culmination of rigorous Proof of Principle and detailed design effort to realize the first examples of a new product. Verhaert has extensive experience of proving product designs through the production of prototype models.
Different terminology is often used for the stages in product prototype development. At Verhaert we talk about:
Breadboards for Proof of Principle
Demonstrators for functional demonstration
Dummy for user interaction and desirability testing
Prototypes for validation
Alpha and beta products for market piloting
The Creative Engineering training encourages you to explore the design space in various ways and determinehow to inverse the technical learning curve of projects while developing them. Our trainers are seasoned engineers with more than 20 years of practical experience. Each one of them has developed a proven toolset to deliver out-of-the-box solutions in advanced engineering projects.

How to secure creative engineering in advanced technical product environments?
Discover
our other services