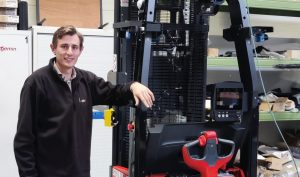 Thomas graduated as a master in industrial science in 2019. He now works as an electrical control engineer for Dematic through Moebius Consulting.
Can you tell us more the work you are currently doing at Dematic?
"I work at Dematic in the mechatronic development team. Dematic makes mobile automation solutions, often called automated guided vehicles (AGV's). Dematic Belgium is the European centre of knowledge for AGV's where we work together with other subsidiaries on other continents. I work on developing AGV's in a diverse, international team. Generally speaking, we start from a manual industrial vehicle/forklift and develop the automation scope. The automation scope composes everything from mechanics, electric controls and both offboard and onboard software to make the manual vehicle an automatic vehicle. I'm also working on the electric controls, which is very interesting as I'm at the crossroad of the complete automation scope. I get in touch with mechanics, electrics and software."
What is the biggest engineering challenge you faced so far?
"The biggest challenge is developing and programming safety software for moving objects. The software must function flawlessly in all conditions. It should comply with regulations and needs a thorough validation before it can be used. The software is part of the broader software packet in the vehicle. This means that the safety software must communicate with other software on the vehicle and both non-safe and safe software must act seamless together."
Can you name some important new skills you acquired last year?
"I learned the ins and outs of the robotics business. I sharpened my programming skills as well. Working with all kinds of nationalities and people with other fields of expertise has enabled me to learn to report my field of work in a clear manner to the other stakeholders."